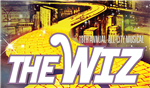 ISSUES, RESOURCES & LESSON PLANS
SO YOU WANTED TO MEET THE WIZARD: FANTASY AND ADAPTATION IN LITERATURE
---
The Wicked Witches of the West from The Wizard of Oz (1939), The Wiz (1975) and Wicked (2003)
ACTIVITY #1
FROM THE WIZARD TO THE WIZ
OBJECTIVE
Scope and Sequence:
Grades 9-12
W.3.d, W.4, W.5, W.6, W.7, W.8, W.9
Pg 10 SL.1, SL.1.d, SL.4, SL.5
To explore why adaptation serves as an effective literary and performance device, and how we personally respond to new adaptations and interpretations of established stories and songs.
DESCRIPTION
The Wonderful Wizard of Oz was first published in 1900, and by the time it passed into the public domain in 1956, it was one of America's most well-known stories. Yet today, relatively few people have read the original book by L. Frank Baum. Most of us know the story and characters from countless adaptations created over more than a century. Here are just a few:
1903 The first Broadway musical based on the book opened in January 1903. It ran for 293 performances and was followed by travelling tours of the original cast. While largely forgotten today, it was certainly in the minds of MGM movie executives in the 1930s.
1939 The iconic film musical starring Judy Garland won six Academy Awards and is widely recognized as one of the most popular films in the history of cinema. While a box office disappointment, the first TV broadcast in 1956 introduced the film to a mass audience and it became an American cultural touchstone. The American Film Institute designated the song "Over the Rainbow" as the greatest movie song of all time in 2004.
1975 The Wiz—an African-American retelling of the Baum novel—was a hit on Broadway and had two national tours beginning in 1976. A Broadway revival in 1984 did not fair as well, closing after just 13 performances.
1978 The film adaptation of The Wiz produced by Universal Pictures and Motown Productions was a box office flop, despite featuring a cast of well-known African-American performers, including Michael Jackson. It has since become a cult classic.
1995 Gregory MacGuire published his novel Wicked: The Life and Times of the Wicked Witch of the West to tell the story from the antagonist's point of view.
2003 Wicked, the Tony-Award winning musical based on MacGuire's book, has become one of the most successful Broadway musicals in history. By 2016, it surpassed $1 billion in ticket sales; a decade-long national tour grossed $790 million by 2015.
RESOURCE: PERUSE THE ORIGINAL BOOK PHOTO
| | |
| --- | --- |
| | How did the creators of the The Wiz adapt the language in the story to make it relevant to a 1975 audience? |
COMPARE
Watch or listen to "Follow the Yellow Brick Road" from the 1939 film The Wizard of Oz, then compare it to "Ease on Down the Road" from the 1975 Broadway production. What were the songwriters trying to accomplish through each song? Why are the songs still popular today?
DEFINITIONS
Adaptation: the process of changing to fit some purpose or situation; especially a movie, book, play, etc. that is changed so that it can be presented in another form or is better suited for a purpose.
Interpretation: the act or result of explaining or interpreting something; the way something is explained or understood; a particular way of performing something.
ENGAGE
Split your class into small groups. Each group will be given the task to reimagine a beloved fairy tale or story and write a modern adaptation. The chosen story must include some fantastical elements and/or characters and should be told through a very specific cultural lens (i.e. a feminist retelling of Cinderella; a Hispanic inspired Goldilocks and The Three Bears; or perhaps a sharing gender bending rendition of Sleeping Beauty)
Encourage groups to focus on the world of their play, visual elements, the language/vernacular of the characters and musical underscoring. Groups may choose to write and depict one or two key scenes and should make casting decisions, rehearse and stage the scene(s) and prepare to share with the entire class. Encourage students to go all out in terms of costume, make-up and storyline. This is their chance to not only engage in social/cultural commentary, but to truly push their imaginations.
ACTIVITY #2
THE JOURNEY TO OZ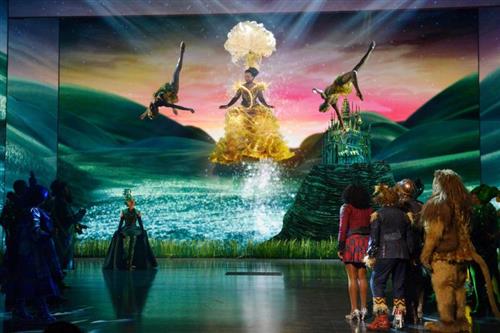 Set of The Wiz Live! (2015)
OBJECTIVE
Scope and Sequence:
Grades 9-12
RL. 10, W. 10, SL.5
To discuss fantasy as a literary genre, and to examine the role of the "quest" in fantasy stories and how it relates to our own personal journeys.
DESCRIPTION
In his book The Wand in the Word: Conversations with Writers of Fantasy, author Leonard S. Marcus writes:
"Fantasy is storytelling with the beguiling power to transform the impossible into the imaginable and to reveal our own 'real' world in a fresh and truth-bearing light."
Children's literature has many classic fantasy tales including The Wizard of Oz. Other iconic literary works of the genre include C.S. Lewis's Chronicles of Narnia, J.R.R. Tolkien's Lord of the Rings trilogy, and the more modern Harry Potter series by J.K. Rowling.
The Wiz—like all good fantasy fiction—reminds audiences of every culture that when we step away from what we know and allow our imaginations to take us to new places, we gain a better understanding of who we are and what we are rooted to. This is why so often, fantasy fiction centers around a central quest or journey to find a new truth.
The strength of The Wiz lies in its ability to expand the audience's understanding of the black experience through Dorothy's own fantastical journey. Like Dorothy, the audience is invited to witness a brand new world and meet characters who help her –and consequently each of us—to better understand the world in which we live.
In describing why the genre is so popular, fantasy author Rowena Cory Daniells explains:
"In our modern world where politicians prove corrupt, large corporations rip off consumers and terrorists kill ordinary people going about their daily lives, the traditional quest fantasy provides an antidote to cynicism. Fantasy, deriving from the word "fantastic," exercises our sense of wonder."
DEFINITIONS
Fantasy: imaginative fiction that depends on strangeness of setting (such as other worlds or times) and of characters (such as supernatural or unnatural beings). In fantasy, authors take real-life situations and characters and introduce them into a world where unexpected (and unexplainable) things happen.

Source: https://www.britannica.com/art/fantasy-narrative-genre

Quest: a long search for something that is difficult to find. Often used in the fantasy genre as the central device of the story.
GROUP DISCUSSIONS/WRITING PROMPTS
What is the appeal of fantasy books and movies like Star Wars and Harry Potter or even the Marvel and DC universes? How do these alternate worlds – however fantastical they may be – mirror or comment on contemporary society?
In what ways does The Wiz fit into the fantasy genre? Do the characters in The Wiz fit your expectations of what a heroine and villain should be? What character types do you see again and again in fantasy stories, movies, television shows and/or stage plays?Are these character types evident in The Wiz?
ADDITIONAL RESOURCES
| | |
| --- | --- |
| | "Taking one step away from reality to that "safe" place of pretend, prepares us to look the world's harsh realities in the face. From there we can name the horrors and celebrate the joys before going back, with a clearer perspective on situations that bother us." |
| | |
| --- | --- |
| | In this essay, Newkirk examines the importance of the fantastical elements found in both the movie and stage adaptations of The Wiz. More than mere fantasy, Newkirk concludes that the true power of this urban retelling lies in Dorothy's ability to fantasize about an imaginary world - a futuristic dream world – where African-Americans take center stage. |
PERSONAL REFLECTION EXERCISE: VISION BOARD
One of the wonderful things about the character of Dorothy in both The Wizard Of Oz and The Wiz is that she is a dreamer, and through her own "quest" she discovers her sense belonging, her strengths and her sense of self.
This activity gives you permission to take some time to dream and fantasize about future hopes, wishes and goals. Take time to unplug – no electronics –and look inward. The task before you is simple: Create a vision board. What's the point of making a vision board? Creating and using vision boards serves several purposes:
To remind you of your strengths and gifts
To identify your passions and offer direction
To keep your attention on your intentions, goals and dreams
Sometime seeing is believing— and writing down goals and/or creating a visual display of your dreams help make them more real. Your board can be as simple or as elaborate as you wish to make it. You can make a board that focuses on a specific goal – i.e. physical strength and well-being – and collect images or inspirational quotes to create a kind of collage or you could create a board of future hopes, perhaps going to college. The choice of what you put on the board is totally up to you; the power comes from the process of dreaming and collecting ideas, words, images, quotes, colors, and/or textures that inspire you and expand your vision. The board can serve as a visual reminder or those hopes and dreams or can be an interactive tool that you can add to or edit as you see fit.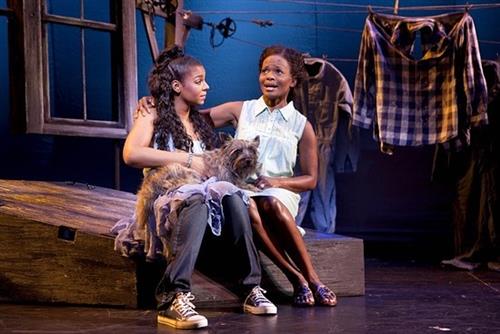 Ashanti as Dorothy and LaChanze as Aunt Em, City Center Encores! Summer Stars Series (2009)