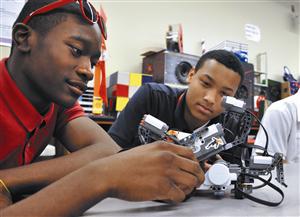 MC²STEM –
Imagine a school that is revolutionizing education, a place where you'll begin your high school career inside a hands-on science museum, move to the campus of a Fortune 500 company for your sophomore year and spend your final two years on a downtown college campus.
All of that is reality at MC²STEM, where you'll be immersed in science, technology, engineering and math courses in dynamic learning environments.
MC²STEM looks like this:
Freshman year you'll be at the Great Lakes Science Center in downtown Cleveland, where you'll study in a building that looks out to the North Coast Harbor, Rock and Roll Hall of Fame and Museum and Lake Erie, but also looks in to the dynamic and informative museum.
Sophomore year you'll move to GE Lighting @ Nela Park in East Cleveland, where you'll work alongside knowledgeable professionals who will mentor and tutor you on their job site and in the classroom.
Junior and senior years you'll be at the new KeyBank Classrooms in STEM Education at Rhodes Tower on the downtown campus of Cleveland State University, where you can work alongside college students in a higher-education environment with high-tech equipment, including lasers and robotics.
Details at a glance
COURSE OFFERINGS
9th and 10th Grade
Algebra II
Geometry
Statistics,
English
Physical science
Physics
Biology
American history
World history
American government
Art
Principles of engineering
Introduction to engineering design
Physical education
Health
11th and 12th Grade
Pre-calculus
English
Chemistry and science elective
Digital electronics
Engineering senior project
Mandarin 1, 2
Social studies topics
Physical education
Senior project (grant writing)
SUPPORT SERVICES
Mastery-based grading system
School-based counseling program
Youth Opportunities Unlimited Jump Program
College Now advising
Post-graduate support
Academic tutoring (multiple providers)
GE Buddies Mentoring Program
Access to Cleveland State University Library and student supports
---
EXTRACURRICULAR ACTIVITIES

Robotics (Including 1st Robotics Team)
Basketball
Track and field
Book Club
Strategy Club
Stealth Club
Yoga Club
MIT Fab Lab Club
Internships at STEM companies
Video Game Club
Chess Club
Master Your Own Path Summer
GSA (Gay-Straight Alliance)
Moble Fab Lab Opportunities

COMMUNITY PARTNERS
GE Lighting
Great Lakes Science Center
NASA Glenn Research Center
Turner Construction
Rockwell Automation
Youth Opportunities Unlimited
Case Western Reserve University
College Now Greater Cleveland
Fab Ed
Thomas White Foundation
Cleveland Foundation
Gund Foundation
Key Bank Foundation
US Fab Lab Network
Cleveland State University
Cuyahoga County
Community College
Ohio STEM Learning Network
Hiram College
NeoMed
University Hospitals
Cleveland Clinic
TIES

Listen to GE Lighting's Andrea Timan interviewed on WTAM about their special relationship with MC2 after it was mentioned in the President's 2014 Enhanced Online State of the Union Address: