Denison School is one of CMSD's high performing school choices in a growing portfolio of quality school options, dedicated to the success of every child we serve.
Culture is based on high expectations in academics and behavior environment
Nurturing environment where self-esteem is fostered
Academic Programs
Kindergarten Science Club
Artist in Residence Partnership, Art House/I Care Partnership
Bi-weekly visits to the Cleveland Public Library
Experience Core Tutoring Program and the Learning Together Program
Grade 3: The Great Mail Race Across America
Junior Achievement
Young Audiences and Contemporary Youth Audiences
At Denison, student's are prepared for the challenges of an ever-changing future. Their diverse educational experiences are designed to guide them to reach their maximum potential.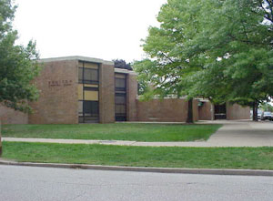 Details at a glance:
Academics (Special Programs)
Experience Core Tutoring Program
Learning Together Program
Standard Based Fieldtrips to Lake Farm Park, Rock & Roll Hall of Fame, Science Center, Indians Game, George Forbes Camp, Cuyahoga Valley Scenic Railroad, Playhouse Square, Metroparks Zoo, Federal Reserve.
Kindergarten Science Club (communicates with Scientist at Los Alamos National Library in New Mexico)
Bi-weekly visits to Cleveland Public Library
Student Council/Safety Team
Grade 3: The Great Mail Race Across America
Year Built: 1971
Building the Overall Wellbeing of Denison Students
Art House/I Care Partnership
Bellefaire Counselor
Bike Helmet Safety Program; Safety Team
Case Nursing Students
Headstart Partnership
OSU Extension Nutrition Program:
You Are What You Eat
Partners with MetroHealth
Free Vision and Dental Programs: Healthy Smiles, Case Dental Program, Vision First, One Sight
Baldwin Wallace Student Teacher Partnership
Cleveland Junior Jitterbug Group
Vitamix Healthy Nutrition Grant Program