Our goal is to ensure every child in the city attends an excellent school and every neighborhood has a multitude of great schools from which families can choose, Cleveland seeks to reinvent our public education system. Our plan is based on an emerging national model that profoundly changes the role of the school district. This approach, or portfolio strategy is showing promising results in cities such as Baltimore, Denver, Hartford, New York and others. In fact, Cleveland is one of 23 school districts involved in the Portfolio School District Network, facilitated by the Center for Reinventing Public Education.
-from The Cleveland Plan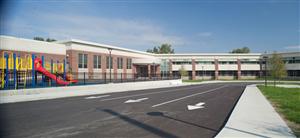 Details at a glance:
Year Built: 2011
Mound is an Investment School with a focus on Readiness to Learn.
CMSD is grateful for and proud of our remarkable staff who demonstrate each day how they are Invested in the children of Cleveland. Please recognize that every professional who signs a Commitment Letter to work in the Investment Schools is truly going "above and beyond" to create new and better learning experiences for children.
Investment School Information
Academics (Special Programs)
Environment friendly STEM School, After school tutoring, Experience Corp. Tutors during the school day, John Carrol University tutors, Learning Together tutoring, Accelerated Reader, Study Island, SpringBoard Reading and Math Program, First in Math program, Mondo Reading program, CTAG (Closing the Achievement Gap)
Facilities include
:
Art Room, Computer Lab, Portable Computer Lab, Gymnasium, Media Center, Music Room, 2 Playgrounds, Science Lab
Clubs and Activities
Scores Soccer and Poetry, Mock Trial Team, Craft Club, Boys Scout, Browns Play 60 Challenge, Student Leadership Team, Progressive Arts Alliance
Other - Annual STEM Family Fun Day (May 9, 2013), Science Make and Take Nights, Beechbrook Services within the school, Young Authors, SPO, Annual Field Day, Building Leadership Team
Partners:
Third Federal Bank
Broadway Slavic Village P-16 coalition
ArcelorMittal.
They work collaboratively with the school providing funding for programs and services to support STEM education within our school.