– Imagine attending a high school wholly focused on college and career readiness, a school proud to be among the first selected Investment Schools in the District, a school where the focus is on supporting your academic and non-academic needs and where one social service agency, OhioGuidestone, manages "wraparound" services.
If you choose Collinwood, you'll have numerous academic choices, including:
AP classes in statistics, art history and environmental science
Interior design and fashion design
Journalism
Robotics
Choir
Extracurricular activities like athletics, an anti-bullying student
group, yearbook, JROTC and Drum Line
Support services such as credit recovery, peer mediation, Project Love and Closing the Achievement Gap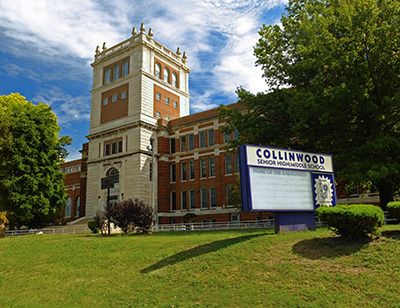 New Tech @ Collinwood– Imagine a school– one among a growing number in the District under the national New Tech model – where you'll learn and present your projects to a team of other students, faculty and staff. New Tech Academies are places where you'll have:
Computer access every day
Tablet computers replacing printed textbooks
Project-based work in a personalized learning community
An academic environment that promotes creativity and independent thinking
Highly skilled teachers, trained and dedicated to the New Tech curriculum
A focus on accountability, trust, respect and responsibility
Details at a glance:
COURSE OFFERINGS
Interior design
Fashion design
Journalism
Robotics
Choir
AP statistics
AP art history
AP Spanish
AP environmental science
New Tech @ Collinwood
Honors courses in:
Algebra
Geometry
World history
U.S. history
English I and II
Physical science
Biology
Chemistry
---
Collinwood is an Investment School with a focus on Readiness to Act.
CMSD is grateful for and proud of our remarkable staff who demonstrate each day how they are Invested in the children of Cleveland. Please recognize that every professional who signs a Commitment Letter to work in the Investment Schools is truly going "above and beyond" to create new and better learning experiences for children.
Year Built: Building-1924 Renovated 1976
-Landmark Building
Extracurricular Activities
Soccer
Football
Volleyball
Track and field
Indoor track
Basketball
Swimming
Tennis
Golf
Bowling
Baseball
Softball
Wrestling
Not On Our Watch
anti-bullying
student group
Student Leadership
Club
Yearbook
JROTC
Drum Line
Support Services

Tutoring
Credit recovery
College Now Greater Cleveland
Peer mediators
Closing the Achievement Gap (CTAG)
Project Love
OhioGuidestone

New Tech @ Collinwood
OGT (Ohio Graduation Test) tutoring
SAT (Scholastic Aptitude Test) tutoring
WAVE (Winning Against
Violent Environments)
College Now Northeast Ohio
Project Love
Closing the Achievement Gap (CTAG)
Credit Recovery

Partners:

New Tech Network
Center for Transformative


Teacher Training

New Tech @ Collinwood
Catholic Charities
Collinwood Alumni
Arts Collinwood
Cleveland Public Library