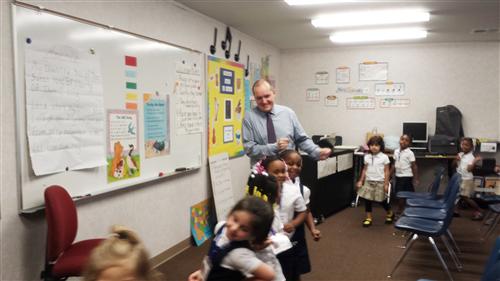 The 2013-2014 school year has been filled with excitement and optimism. Our students returned in August not only to bright and dynamic classrooms, but also with optimism for the endless possibilities that await them in a school community that now, more than ever, is committed to their success.
That spirit has been especially evident throughout Cleveland this year, as the high value that citizens place on education has been visible in the spirit that inspired passage of Cleveland's Plan for Transforming Schools in Columbus. It was also evident in a renewed belief in Cleveland's public schools that led to passage of our first operating levy in 16 years. Together, we are making CMSD the hallmark of an energized and revitalized city.
CMSD has remained in the state and national spotlight, as Cleveland's Plan for Transforming Schools made history for its unprecedented bi-partisan support and became state law on July 2, 2012. Also unprecedented is the internal and external support for a community-wide vision for how best to transform our schools and ensure high-performing options in every neighborhood. At the heart of community input so essential to building our Four-Year Implementation Strategy is our basic need to equip every child with the skills he/she needs to compete in today's work force and a commitment to giving every child a chance to succeed.
Cleveland's Plan for Transforming Schools has put wind in the sails of school change in Cleveland, and CMSD is now positioned to more quickly and more effectively put high-quality public schools and CMSD-partner charter schools in every neighborhood of our city.
Thank You for visiting our new website, where a growing number of people are joining the revolution to transform Cleveland's Public Schools! Please let us know how we are doing using our contact form.
Eric S. Gordon, CEO

The CMSD Experience interns
---
Congratulations to the Cleveland Metropolitan Bar Association' 3R Teacher of the Year - School of One's Anthony Simeone.