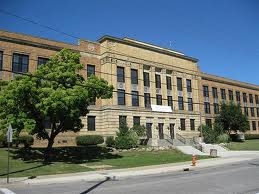 Historic: Six student-athletes from James Ford Rhodes sign National Letters of Intent to play college football. A heart felt congratulations goes out to our following seniors:
Jayvon Benton will be attending Monroe College.
Derrick Brown will be attending Hocking College.
Derrin Brown will be attending Hocking College.
James Langford will be attending Hiram College.
Richard Monday will be attending Alleghany College.
Cedric Taylor will be attending Hocking College.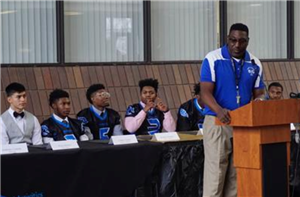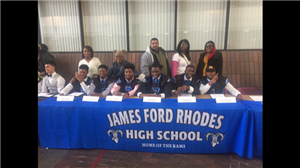 James Ford Rhodes High School is the only comprehensive CMSD high school on the west side of Cleveland that prepares 21st Century learners for the ever-changing world.
Rhodes offers a wide range of innovative electives to help you explore your passions and introduce you to possible career paths. You can discover the world of fashion merchandising by taking a fashion, fabrics and fibers class taught by an art teacher and renowned designer, or expand your worldview by taking language classes in French, Spanish or American Sign Language. And that's just the beginning.
Rhodes also offers services to prepare you for college and careers, including:
High Tech Academy through Cuyahoga Community College.
College Credit Plus program.
College Now Greater Cleveland counselors.
scholarship application assistance.
As a Rhodes student, you are encouraged to participate in a wide range of sports, clubs and extracurricular activities, including ROTC, Chess Club, Robotics, Anime Club, rowing, track, soccer, golf, bowling, football, girls or boys basketball, baseball, softball and wrestling.
Our Goal
Our goal here at James Ford Rhodes High School is to prepare our students for an evolving global marketplace through rigorous academic instruction. Our student-centered approach allows for intellectual and personal growth in a diverse and challenging environment. Welcome to a new year at James Ford Rhodes.
CMSD Goal
The district goal is to increase parent conferences by a rate of 7.5%.
The district goal is to increase student attendance by a rate of 1.5%.
Rhodes Comprehensive Bell Schedule
Grades 10-12
2017-2018
| | | |
| --- | --- | --- |
| Period | Start Time | End Time |
| 1 | 8:00am | 8:40am |
| 2 | 8:44am | 9:24am |
| Home Room | 9:24am | 9:32am |
| 3 | 9:36am | 10:16am |
| 4/Lunch | 10:20am | 10:50am |
| 5 | 10:54am | 11:00am |
| 6/Lunch | 11:04am | 11:34am |
| 7 | 11:38am | 11:44am |
| 8/Lunch | 11:48am | 12:18pm |
| 9 | 12:22pm | 12:28pm |
| 10/Lunch | 12:32pm | 1:02pm |
| 11 | 1:06pm | 1:46pm |
| 12 | 1:50pm | 2:30pm |
*Homeroom is held in the 2nd Period classroom.
Principals
Campus Principal – Mr. Rudolph
10th Grade – Mr. Evans
11th Grade - Mr. M
12th Grade – Ms. Gollate
Counselors
A – G: Gibson
H – P: Forrey
Q –Z: Hudson