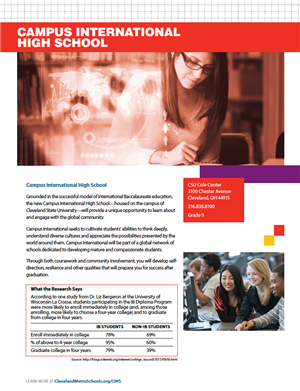 Download our flier today!
Grounded in the successful model of International Baccalaureate education, the new Campus International High School -- housed on the campus of Cleveland State University -- provides a unique opportunity to learn about and engage with the global community.
Campus International seeks to cultivate students' abilities to think deeply, understand diverse cultures and appreciate the possibilities presented by the work around them. Campus International is part of a global network of schools dedicated to developing mature and compassionate students.
Through both coursework and community involvement, students develop self direction, resilience and other qualities that will prepare them for success after graduation.