Our goal is to ensure every child in the city attends an excellent school and every neighborhood has a multitude of great schools from which families can choose, Cleveland seeks to reinvent our public education system. Our plan is based on an emerging national model that profoundly changes the role of the school district. This approach, or portfolio strategy is showing promising results in cities such as Baltimore, Denver, Hartford, New York and others. In fact, Cleveland is one of 23 school districts involved in the Portfolio School District Network, facilitated by the Center for Reinventing Public Education.
-from The Cleveland Plan
Ground-breaking for the new vegetable garden
at Marion-Sterling.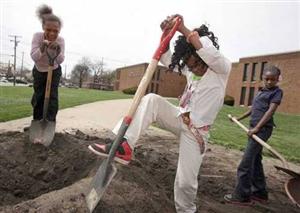 Third-grader Dalyla Bridges, 8, gives her all Tuesday as she and fourth-graders Skyla Harris, 9, left,and Jaiiona King, 10, right, help move soil for a raised-bed garden at Marion-Sterling ElementarySchool in Cleveland. Students are planting lettuce, beans, cabbage, onions and other vegetablesin the garden.
(Peggy Turbett, The Plain Dealer)
Details at a glance:
Academics (Special Programs)
Year Built: 1971
Partners:
Community of St. Peter
Trinity Cathedral
Tri-C
St. Vincent
Sterling Library
STEP
Neighborhood Leadership Institute
Safe Haven
Facilities include:
Art Room, Computer lab, gym, media center, music room, outdoor rec area, Family Center, and a Planning Center.
Activities
Boy Scouts
Good News Club
AKA Emerging Leaders
Success Within
Lego Club
Cooking Club
Girls Circle
Life Group
Young Audiences
YMCA
Princess Club
We Run This City
Special Olympics
Computer Lab
Homework Club
The Garden Club
Saturday School