A Message from the Executive Director
---
Hungry children cannot learn. That is why nutrition at school plays a key role in education and learning. The Food & Child Nutrition Services staff is committed to making sure every scholar has the proper nutrition so they can learn and achieve to their fullest potential.
Catering nutritious meals to our scholars is our commitment. We understand that well-nourished children are better equipped to learn. Providing healthy food and nutrition education are the key ingredients in educating students to make choices that will develop into life-long healthy eating habits.
If you have not already done so, please take a look at our new menu, as we have made a lot of changes! As we try new items, new recipes, and new menus, we will continue to make changes as needed. If your scholar likes an item, please have him/her tell the cafeteria staff. Their choices and voice drive what products we place on the menu.
I would be remiss if I did not mention that the true stars in this process are the Food & Child Nutrition Services staff who have the complex task of serving the 40,000 scholars daily. Their efforts are never sufficiently recognized.
Please visit our website often to keep updated on new and exciting changes.
Sincerely,
Chris Burkhardt, SNS
Executive Director of Food and Child Nutrition Services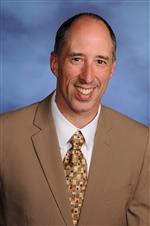 ---
The National School Breakfast and Lunch Program is governed by USDA regulations. Meals must meet the breakfast and lunch meal patterns and recommendations of the 2010 Dietary Guidelines for Americans.
Menus reflect regulatory requirements under Final Rule "Nutrition Standards in the National School Lunch and Breakfast Programs" in accordance with the Healthy, Hunger-Free Kids Act of 2010. All a la carte items meet the new "Smart Snacks in Schools" regulations as determined by the USDA.
Meal portion sizes for breakfast and lunch are determined by USDA's Meal Pattern for School Meals. The meal patterns provide portion sizes for each of the required components: milk, meat/meat alternate, grains, and fruit and vegetables.
Nutrition strategies to expand healthy food choices and curb childhood obesity are:
Purchasing food items that are trans fat free
Increasing whole grain items
Increasing fresh fruits and vegetables
Serving fresh salads
For students with disabilities or a "life-threatening" condition, substitutions may be made to the meals with a medical statement signed by a physician on file.