Capital Programs
---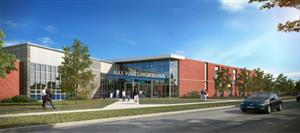 Cleveland Metropolitan School District's Building Program
is a joint effort by the District and the Ohio School Facilities Commission (OSFC) to transform every Cleveland school into a 21st century learning environment. Building Program describes what is planned for each of the District's schools (renovation, replacement or consolidation) and outlines when the work will be performed.
The passage of Issue 14 in May 2001 to fund the rebuilding of schools was followed by more than 200 community meetings to gauge the needs and expectations of the community.
In June of 2002, the Board of Education approved the Building Program outlining the replacement, renovation or consolidation of each District school. The Ohio School Facilities Commission (OSFC) gave its approval later that summer. The OSFC is funding more than two-thirds of the multi-segment project, while the District is funding the remainder.
Issue 14 allowed the District to build and renovate more than 40 schools.
In November 2014, voters overwhelmingly approved Issue 4, a $200 million bond issue that will allow the District to build 20 to 22 more schools and remodel 20 to 23. The bond issue did not raise taxes.
Currently Design Architects, Engineers and Construction Managers for the Segment 7 New School Construction projects (Charles Eliot, H. Barbara Booker, Fullerton, John F. Kennedy, O.H. Perry, Sunbeam, Waverly, West Side High School, and William Rainey Harper), have been selected and are in the first stages of design and pre-construction activities.
By the end of February 2016, information on Job Fairs and approved sub-contractors will be listed here.
Contact Us