Campus International HS Spring Information Session #2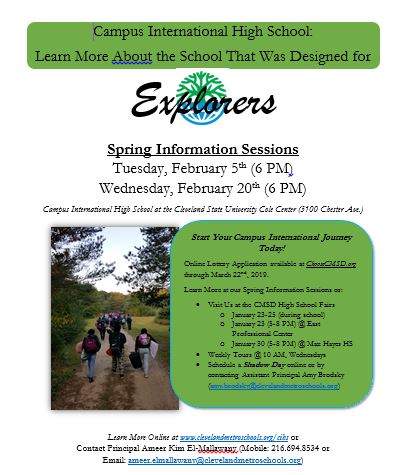 Join us at Campus International High School for our final Spring Information Session to learn more about the opportunities available at CMSD's only high school offering the International Baccalaureate (IB) program.
Find out more at our website at www.clevelandmetroschools.org/cihs or reach out to Principal Ameer Kim El-Mallawany for more information by email or mobile phone (216.694.8534).
This information session will be held at Campus International High School, which is located in Cleveland State University's Cole Center at 3100 Chester Ave (entrance to parking lot is on E. 30th Street just south of Chester Ave).
Campus International High School
3100 Chester Ave
Cleveland, OH 44114The zipcode must be numeric with at least five numbers.