Return to Headlines
Nearly 100 students participate in Special Olympics at CWRU (photo gallery)
CMSD NEWS BUREAU

10/2/2015

Nearly 100 student-athletes from 10 CMSD schools competed Friday in a Special Olympics celebration and friendly competition at Case Western Reserve University.

The second annual "Spartans for Special Olympics" program was organized by a student club at the university and took place at the Veale Center, an athletic field house on the Cleveland campus that easily hosted a number of simultaneous events, including kickball and soccer.

The games were preceded by an opening ceremony and 'torch' relay involving a few CMSD students and CWRU volunteers.

Student organizer Belle Perez, a senior biology major, said she modeled the program after something similar she had done in a St. Louis-area high school.

"I just saw a lack here and decided to see who I could partner with to do it, and Cleveland schools were a good fit," she said. "It's just as important for us as college students as it is for the athletes, because in the end, it's really just a matter of hanging out together. That's why we refer to the CWRU volunteers as buddies. Our three main goals are diversity, inclusion and community, and we hope this event helps reach those goals."

Nicole Sellman-Penny, who has been a special-education teacher at Max S. Hayes High School for 18 years, said the event is good for everyone – and just plain fun.

"This works hand-in-hand with what we do all year for our students in helping them to socialize and also to stay active," she said. "And I think the college students realize a lot about how much our kids have to offer."

Kim Keyser, an intervention specialist at Benjamin Franklin, School agreed. "I've got one young lady, Haylie, who has been very shy around people, but today she has really participated and enjoyed it," she said. "This is another way for us to work with our students on how they handle themselves in all sorts of public situations."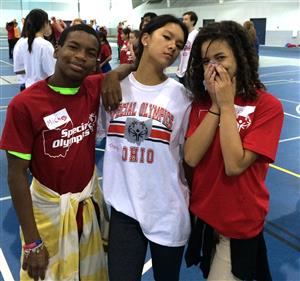 Bill Hatfield, assistant field director of Special Olympics Ohio, said the CWRU event, like so many others, celebrates the confluence of athletics and more informal socializing.

"It's not just sports, but also just hanging out, with each other," he said. "That's no small thing and part of our larger efforts."

CMSD Interim Athletic Commissioner Vincent Marquard said the event falls under the "Project Unify" umbrella, which also includes a "Young Athletes Program" for prekindergarten and kindergarten students as well as Special Olympics events like bowling, track and field, basketball, swimming and snow skiing.

Special needs students from the following schools competed on Friday: John F. Kennedy, Lincoln-West and Max Hayes high schools and Daniel E. Morgan, Riverside, Benjamin Franklin, Mary M. Bethune, Luis Muñoz Marin, Tremont Montessori and Robert Jamison elementary schools.