Return to Headlines
Chess championships set for Monday (photo gallery)

CMSD NEWS BUREAU
12/4/2015

A new Cleveland Metropolitan School District King of Chess will be crowned Monday afternoon after a few more hours of quiet-but-intense battle at East Professional Center.

Top players from among more than two dozen CMSD schools will take center stage at high noon at the renovated former high school on Superior Avenue. The overall winner will likely be known by 4 p.m.

"It's such an exciting day for our players from across the District," said Lynne Furman, student activities coordinator for the District's Athletic Department. "We know that while it may not be as high profile as something like football, it's a big deal. Our District chess program is about 35 years old."


CMSD's chess legacy

Much of the credit for launching and maintaining that level of interest in chess in the District goes to retired CMSD mathematics teacher Ken Fiore, who has been running the tournament for those three decades.


Fiore was a constant presence during a recent team competition in the first-floor library at the John Hay Campus, calling out match-ups and coaching alongside some of the schools' coaches and settling debates on the finer points of the game.

He said the mental organization required in chess helps students in all academic areas – and in life.

"People who play chess have to organize their thoughts, or they won't be successful in the game," he said. "Sometimes it's intuitive, but you have to have thinking skills, and many studies have shown that people who play chess do better in school."



Amit Ghose, a bilingual instructor and chess coach at Joseph M. Gallagher School, agreed. "The analytic skills required most certainly do apply to real life," he said. "You learn how to get through things, even when you are down a queen.

"I think it also teaches teamwork, even though they play the games individually, because they are always helping each other get better so the team will score more points."

Ghose said he brought all rookies to the team competition this year, his fifth coaching at Gallagher.

Deb Laughlin, an art teacher at Artemus Ward, brought players from that school and McKinley to the team rounds, played mostly in November. She has been coaching chess for 15 of her 18 years in the District.

She said several years ago she had more than 100 kids showing up each day before school to play chess before classes began.

"Everything just came together for a time, just as a very popular student began to excel at the game and others followed along," Laughlin said. "Now, we only have about 16 players, but we have a strong tradition and we're proud of it.

"A lot of people don't think of urban kids as chess players, but this tournament and the number of schools and kids involved is a statement. And we sometimes go to tournaments and win and people take notice of our teams and our individual champions."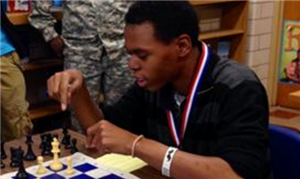 Two-time champ gone

CMSD will crown a new individual champ for the first time in three years on Monday. Each school in the competition will bring its top two players to compete for first-board (overall champion) and second-board honors.


Jamal Gibson won the competition in both his junior and senior year at the Cleveland School of the Arts. His graduation leaves the battle for the top prize wide open this year.

Dozens of District players from eight high schools and 10 K-8 schools have competed over the last month across four rounds for the team championships and winners emerged last week.

Glenville took the upper championship with 19 team points, overtaking Max Hayes in the second round and then holding off the Cleveland School of the Arts (17.5) and the John Hay Campus (16.5) after the sixth and final round Nov. 24. (See the full standings below.)

In the younger league, Joseph M. Gallagher School also leaped over second-round leader Miles Park School to take the title with 20 points, while runner-up Patrick Henry had 18. Miles Park ended up in third, tied with the Kenneth W. Clement Boys Leadership Academy with 16 points each.



________________________________________

Final Team Chess Standings



High School
1) Ginn Academy 19 points
2) Cleveland School of thr Arts 17.5 points
3) John Hay 16.5 points
4) Max Hayes 12.5 points
5-6) MC2STEM & New Tech West tied 9 points each
7) SuccessTech 7 points


8) Whitney Young 5 points

K-8 schools
1) Joseph Gallagher 20 points
2) Patrick Henry 18 points
3-4) Kenneth Clement and Miles Park 16 points each
5) Clara Westropp 12 points
6) Adlai Stevenson 11 points
7) James A Garfield 7.5 points
8) Artemus Ward 6.5 points
9) Ben Franklin 6 points
10) Warner 4 points