Return to Headlines
U.S. Post Office donates more than 300 holiday gifts to Louis Agassiz students (video, photo gallery)

CMSD NEWS BUREAU
12/18/2015

Some of the festively wrapped holiday packages were so huge at Louis Agassiz School on Friday afternoon that they towered over the students who received them from U.S. Postal Service workers who were making an annual gift donation.

But some of the requests had been scrawled in writing so small and asked so little that it surprised even longtime Postal Service worker Lily Paige.

"One of these babies said on his list that the only thing he wanted was a food card," said Paige, who has been helping with the program since it started more than 25 years ago. "A food card – can you believe that? Well, we got him a little more."

The Cleveland Post Office's "Angel Tree" program unloaded more than 300 gifts from a USPS truck and through a back entrance at the school on Cleveland's West Side while teachers kept all but the oldest students busy elsewhere in the building.

Students were then brought in by classroom to pick up their personalized gift.

"Don't open them yet! Wait until you get home with them," cautioned first-year Agassiz Principal Bill Wingler Jr. "And let's thank our friends at the Post Office."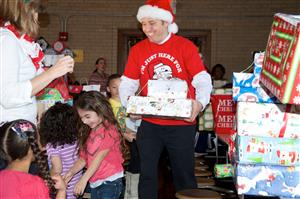 The students gathered around Santa (whose eyes may have looked a bit like those of Bill Wingler Sr.) and shouted a loud "Merry Christmas!" and "Thank you" to Paige and other volunteers.

Each year, the Post Office gets the name of a school from CMSD and then asks the students to list a gift they would like to have.

"I hope mine is a robot car," said one first-grade boy while waiting at the long cafeteria table as others names were called by Santa, Wingler Jr. and other CMSD volunteers.

"This is what it's all about," Paige said. "It's a pleasure to watch this."