Return to Headlines
Ginn Academy hosts first Empty Bowls fundraiser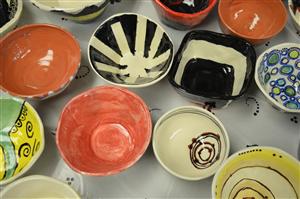 CMSD NEWS BUREAU
Thursday, 12/12/13
Ginn Academy held its first Empty Bowls fundraiser Thursday to support the
Cleveland Foodbank
.
For a $10 donation, you received a handmade bowl, created by a member of the Ginn Academy ceramics program.
Empty Bowls
is an international organization with a simple solution to raising awareness of hunger in the community and around the world. Guests are invited to a simple meal of soup and bread in exchange for a cash donation. They are asked to keep a bowl as a reminder of all the empty bowls in the world.
The fundraiser was organized by Judy Rickel, ceramics teacher at the Ginn Academy.
[ModuleInstance->Description]
You need at least version 7 of Flash player. Download latest version here!