Return to Headlines
CMSD to lease, purchase 225 buses
CMSD NEWS BUREAU
Tuesday, 12/17/13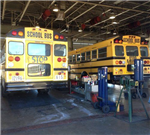 CMSD will lease 225 buses and take the majority of a tired, old fleet off the road.
The Board of Education on Tuesday approved leasing the buses for seven years. The District will buy the buses at the end of the lease, raising the total cost of the plan to $17.9 million.
On average, the buses to be replaced are 12 to 13 years old and have accumulated about 150,000 miles. The District will spend more than $2.7 million a year on lease payments but still save more than $400,000 annually because of reduced maintenance costs.
The District will lease 176 conventional diesel-powered buses from Rush Truck Sales of Ohio and 20 conventional propane-fueled buses from Cardinal Bus Sales and Service. Cardinal also would provide 29 propane-fueled buses with wheelchair lifts.