Return to Headlines
Celebration for Glenville football team held at City Hall rotunda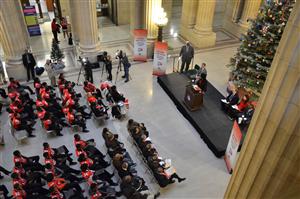 CMSD NEWS BUREAU
12/19/13
Cleveland paid tribute to the Glenville High School state runner-up football team with a ceremony Thursday in the City Hall rotunda.
"I appreciate and thank you for what you have done" for the city, Mayor Frank G. Jackson said. "You have demonstrated care, heart and personality."
John Hairston, representing Congresswoman Marcia Fudge, echoed the sentiment and praised the players for their talent and perseverance in overcoming obstacles.
Glenville lost its season opener to St. Edward, then won 13 consecutive games, including four in the playoffs. Despite a second-half comeback, the Tarblooders fell, 41-23, to Loveland in the Division II championship early this month.
Coach Ted Ginn Sr. said the school still came away with a victory.
"We never lose when we connect with a kid, when a kid goes to college and stays the course," he said. "It's all about the community."
Councilman Kevin Conwell told the players: "It is more than football (coach) Ginn is teaching you. It's mental toughness. It's not about football, it is about being the best you can be as a person."