Return to Headlines
Watch video as robotics students from CMSD schools compete this weekend at CSU Wolstein Center
Video by CMSD Communications

CMSD NEWS BUREAU

03/21/2014

George Bilonkonsky simultaneously complimented and teased his own CMSD team, peers from MC2STEM High School and the 1,500 other student-scientists rocking the Cleveland State University Wolstein Center on Friday afternoon at the 13th annual

Buckeye Regional FIRST Robotics Competition.




"This is like Woodstock for geeks," Bilonkonsky said with a grin. "This is what it's all about for us every year."

Bilonkonsky, executive director of the Technology Academies at Cuyahoga Community College, formed his first District robotics team at Max S. Hayes High School in 2002 and had several CMSD schools combined under one banner at Tri-C.


The scene inside the CSU arena was part Star Wars, part NASCAR. Students were dressed in crazy costumes and walking around with laptops, trailing wires and pieces of machinery. Announcers bellowed out play-by-play for each battle and spectators did the wave or team cheers.

FIRST, or For Inspiration and Recognition of Science and Technology, is a NASA program designed to create "accessible, innovative programs that build not only science and technology interests, but also self-confidence, leadership and life skills."

Both Bilonkonsky's blended CMSD team — with students from MC2STEM, East Tech, Max Hayes and John Adams high schools — and a separate MC2STEM squad were busy all afternoon tinkering with their robots to try to improve performance in the competition.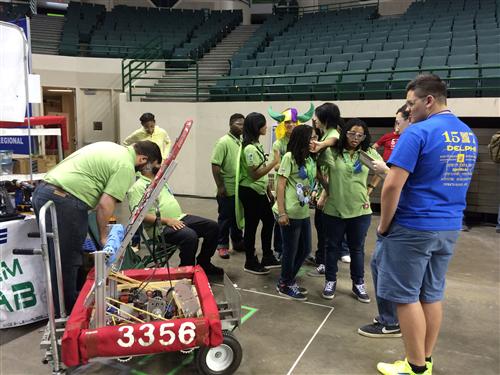 The regional competition at CSU, which runs through 4:30 p.m. Saturday at the arena, is a qualifier for the FIRST championship, to be held April 23-26 in St. Louis.



Teams built robots of up to 120 pounds for a game called "Aerial Assist," in which two competing groups of three robots, each on a 54-foot-by-25-foot field, try to toss a blue or red oversized squishy ball over or into a goal. Teams controlled their robots from behind a plexiglass wall.

The teams had six weeks to raise money, develop a team "brand," practice and program their robot to perform the tasks of moving about the field, picking up the ball and tossing it.




"We're doing pretty well so far, but we'll see how it goes through today and into tomorrow," Bilonkonsky said. "We call ourselves 'Cleveland's Team,' and we're like the super team, the best of robotics from Cleveland schools, so we'd like to make a good showing."