Return to Headlines
CMSD receives 153 applications for principals academy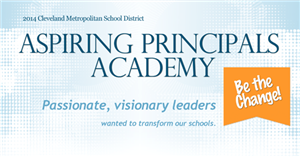 CMSD NEWS BUREAU
4/7/2014
CMSD received 153 applications for the 10 openings in its first
Aspiring Principals Academy
, a yearlong residency program that will help groom new leaders to run Cleveland public schools.
Among the applicants who met the April 1 deadline are 65 who already work for the District. The pool also includes 18 applicants from 10 other states: Georgia, Michigan, North Carolina, Nevada, New York, Pennsylvania, South Dakota, Tennessee, Texas and Virginia.
Interviews are under way, and selections should be made by the end of April, said Laura Purnell, who is overseeing the process for the District. She said she was pleased with the volume of applications and impressed by the number of states represented.
Those who make the cut will spend five weeks in a sort of boot camp this summer, responding to the kinds of situations they might encounter in a CMSD school.
They then will serve a one-year residency alongside a mentor principal before taking over schools of their own. The residency will pay $75,000 plus benefits.
The training program is part of CMSD's commitment, under
The Cleveland Plan
, to recruit and develop outstanding leaders who are committed to improving education for all students.
The
NYC Leadership Academy
is helping to launch the program. NYCLA was founded 10 years ago and has trained and coached more than 2,000 principals in New York City and across the country.