Return to Headlines
Glenville's Ivey accepts scholarship to Akron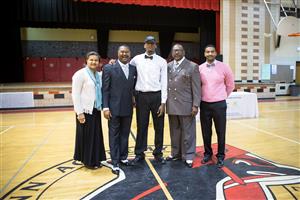 Jimond Ivey, a guard-forward for the Glenville High School basketball team, has accepted a full athletic scholarship to the University of Akron.
Ivey, who stands about 6 feet 4 inches tall, averaged 23.4 points, 8.2 rebounds, 1.3 steals and 7 assists this past season. He
made a verbal commitment
to Akron in February.
Ivey is a student at Ginn Academy but plays at Glenville because Ginn does not have interscholastic team.
Ginn celebrated the signing with a ceremony Wednesday morning at the school.
Photo by Karin McKenna