Return to Headlines
CMSD launches Teach Cleveland recruiting website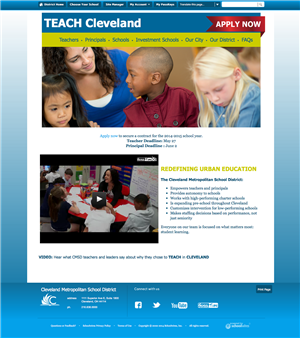 CMSD has launched a new website -- www.teachcleveland.org -- to recruit teachers and principals from across the country.

Applications can be filed through the website. The site also presents information on the District and city and video testimonials from educators who are thrilled to be taking part in CMSD's dramatic changes.

With a wave of retirements looming, CMSD will begin hiring large numbers of new teachers for the first time in years. The goal is build a pool of four to seven candidates for every opening. The District also is preparing to fill vacancies in the ranks of its principals.

Recruiters believe candidates will be excited to be part of The Cleveland Plan, a sweeping set of reforms designed to reshape the work force and change the school culture. The plan calls for providing parents with a portfolio of high-quality school options and aggressively transforming struggling Investment Schools.



Cleveland's unfolding renaissance is another selling point. Recruiters will tout the city's world-class attractions, affordable cost of living, easy access and ethnic diversity.