Return to Headlines
'Wizard of Oz' production at Louis Agassiz showcases CMSD actors, singers (video)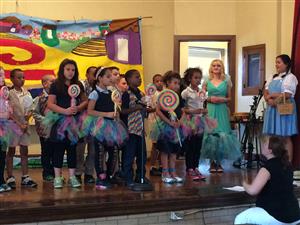 CMSD NEWS BUREAU
5/21/2014

They're not lacking for ambition in the drama department at Louis Agassiz PreK-8 School on Cleveland's West Side.

Co-directors Jennifer Johnston and Michelle Toth, already swirling in busy-ness helping prepare two mostly different casts for two showings (10:30 a.m. and 2:30 p.m.) of a Thursday production of "The Wizard of Oz," have decided to add another showing at 10:30 a.m. Friday.

"We have a lot of parents that will be filling up the gym on Thursday, and this way we can show it to the whole school on Friday," said Agassiz Prinicipal Christine Herricks. "They're doing a great job – the directors, the crew and all of the kids."

Wednesday afternoon's dress rehearsal was as chaotic as the twister that hit the Kansas plains and took Dorothy to Oz, but student after student also showed off their singing voice and acting chops as Johnston and Toth scrambled to keep more than 50 players on task.



That group includes an entire third-grade class playing the Emerald City citizens in both productions and a wave of kindergartners, naturally, as munchkins.

The Agassiz students were involved in every aspect of the musical, including making costumes (with a big assist from a number of dedicated parents), painting backdrops and making props, the directors said.

"We just wanted to say how incredibly proud we are of all the students at Louis Agassiz for all their hard work and dedication to this musical," Johnston and Toth said in a written note in the program.

"Their pride in what they have accomplished is inspiring to us and renews our faith in the fine arts."