Return to Headlines
CMSD's Early College among state's top performers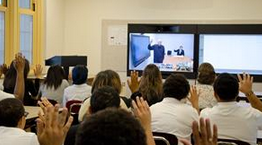 CMSD NEWS BUREAU

9/22/2014

CMSD's Cleveland Early College High School earned the third highest performance index among Ohio high schools on its new state report card, according to figures from the Ohio Department of Education.


Performance index is a composite of scores on all state achievement exams.

Early College scored 113.59 points, good for an A grade. Among Northeast Ohio high schools, that ranked second only to Chagrin Falls, which scored two hundredths of a point higher. Dublin Jerome High School near Columbus was the state's leading high school at 114.466.

Cleveland Early College High School students complete four years of high school in three years. Two years ago, the school had the highest high school performance index in the state.

Early College, which has about 250 students this year, makes up the John Hay Campus along with the Cleveland School of Science and Medicine and the Cleveland School of Architecture and Design. The three small high schools have admissions criteria, including a B average.

Science and Medicine also earned an A for its 2013-14 performance index and Architecture and Design received a B.