Return to Headlines
Author Patricia Polacco wows kids, teachers at R.G. Jones (Video)
CMSD NEWS BUREAU

11/10/2014

Author and artist Patricia Polacco picked up a gymnasium jammed with kids at CMSD's Robinson G. Jones School and transported them into her world.

By all accounts, the kids -- as well as the teachers and anyone else within earshot of the dynamic 70-year-old speaker -- were glad she did.



"I really liked the stories, especially about her family and

the meteor,

" Adriana, a fourth-grader, said after the presentation Monday afternoon. "She also told us that each of us were special."

The

accomplished children's author

was brought to R.G. Jones by

The Cleveland Children's Book Fund,

which supplies books for Cleveland school students and professional development for teachers on how to use the books most effectively. The program is administered by the Center for Excellence & Innovation in Education in the Cleveland State University College of Education.

By Monday afternoon, Polacco had also spoken to CMSD students from Artemus Ward, Orchard and Tremont Montessori schools, as well as private schools like Hawken and Laurel School.


"Our students were incredibly engaged," said R.G. Jones instructional coach Denise Riley, who helped arrange the program with Marlene Gombach of the book fund. "They know the books, their teachers make sure they know the books. The books are really great read-along books for older students, but really great read-to-the-class books for teachers."

Polacco spoke to the elementary school students for nearly an hour and rarely lost their attention, mixing personal experiences (she was bullied and functionally illiterate until age 14), family history (a Russian grandmother first told her that all stories contain elements of truth, "whether they happened or not") and characters from her own books (featuring a certain "idiot, red-haired older brother.")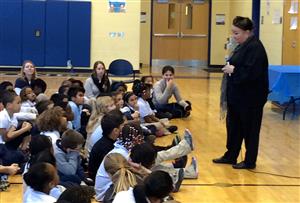 But the most compelling story, judging from the enthusiasm of the crowd, was a combination of all three – the tale of the strange powers coming from the remnant of a meteor that landed in her grandparents' front yard. The tale, whether wholly factual or not, became Polacco's book "Meteor!"

The magic stone was said to grant wishes to those who came with a pure heart, for those who did not ask for any of three things: money, a change in someone else or any possession that could be otherwise purchased ("Toys! Toys! Toys!," Polacco exclaimed to make her point to the kids.)

"You can wish for anything else, and that's up to you, but also think about what you might do for someone else," she challenged the students.



The R.G. Jones students lined up after Polacco's presentation just to briefly touch a chip off the rock. Staff and parents lined up afterward to get copies of some of her books signed by the author.

Polacco also used her stage to remind the CMSD scholars of something about themselves.

"You are all gifted," she said. "Some of us just open our gifts later."



Polacco said she endured teasing and hid her own disability of dyslexia until a certain schoolteacher discovered it and helped her learn. Her book "Thank You, Mr. Falker" is a retelling of her own story.