Return to Headlines
Students can receive flu vaccine in school
CMSD NEWS BUREAU
12/15/2014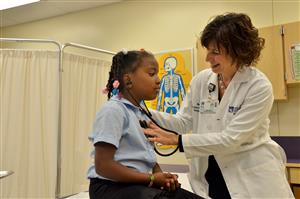 Amid predictions of a severe flu outbreak, CMSD will vaccinate students for free in school.
The District has 4,600 doses that nurses will administer via nasal mist or injection. Nasal mist is not an option for students who suffer from medical conditions like asthma.
The vaccine will be given at any school that receives at least 20 signed consent forms from parents or students who have turned 18 years old.
"We're not just protecting the kids, we're protecting the families," said Deborah Aloshen, director of health and nursing services. "Kids can take the flu home and give it to parents and grandparents."
The District, which is working with the Cleveland Health Department, has sent home consent forms in recent weeks, accompanied by a letter signed by city Health Director Toinette Parrilla. Parents or caregivers also may obtain consent forms at their children's schools.
The vaccine already has been given at six schools. Students will go on winter break after classes are dismissed Friday, but nurses will continue the vaccination into the new year, Aloshen said.