Return to Headlines
Berry, DeJesus receive honorary diplomas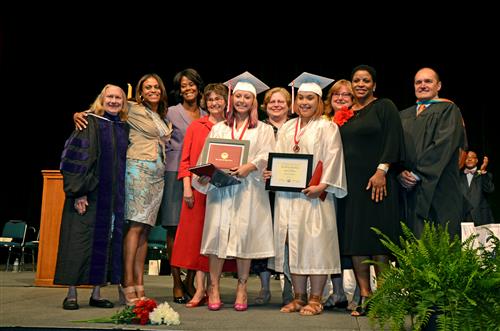 CMSD NEWS BUREAU

5/27/2015

Amanda Berry and Gina DeJesus, kidnapped off the streets of Cleveland and held captive during their school-age years, received honorary diplomas at John Marshall High School's commencement Wednesday afternoon.




Amanda and Gina wore white caps and graduation gowns as they joined more than 140 students for a ceremony at Cleveland State University's Wolstein Center.


The two women, along with Michelle Knight, escaped in May 2013 from Ariel Castro's home on the city's near West Side. Their story continues to grab national attention.



Amanda was a student at John Marshall when Castro abducted her on April 21, 2003, the day before she turned 17 years. Gina, then 14, was taken as she walked home from Wilbur Wright School on April 2, 2004. She would have gone to John Marshall.