Return to Headlines
Teach Cleveland fills 348 open positions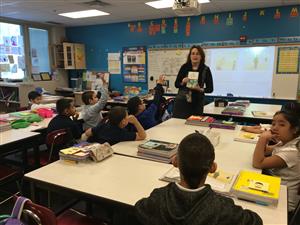 CMSD NEWS BUREAU
6/18/2015

As of June 7, CMSD had filled at least 348 open teacher positions for the upcoming year, compared with none at the same point in 2014.

The Teach Cleveland recruiting campaign got an earlier start in its second full year, allowing hiring to begin in April as opposed to June, said Lora Cover, the District's chief talent officer.

The number of jobs filled so far represents three-fourths of the open positions. CMSD hopes to have all the remaining teaching jobs filled as quickly as possible.

Outside applicants have been placed in 154 of the jobs filled to date, while the rest of the hiring was internal.

Recruiters have visited 31 job fairs and conducted 16 information sessions spanning 32 colleges and other destinations, primarily in Ohio, the Great Lakes region and other parts of the Midwest.

In an attempt to increase diversity, they also traveled to historically black colleges and universities. Staff visited Bowie State University, Claflin University, Howard University and the Teacher of Color Recruitment Fair in Atlanta.