Return to Headlines
MetroHealth shows off Life Flight, more to 9th-graders (photo gallery)
CMSD NEWS BUREAU
10/6/2015
About 50 CMSD ninth-graders experienced firsthand the many sides of working at MetroHealth Medical Center on Tuesday afternoon.
"Whoa, are we going to fly that?" shouted one student from James F. Rhodes High, pointing at the bright-yellow
Metro Life Flight
helicopter parked on the fourth-floor roof of the hospital. Moments later, students swarmed the vehicle, peeking inside and asking questions about the blades, the motors and the medical equipment.
Students didn't actually fly with the Life Flight crew,
but checking out the chopper was one of the high notes during the second monthly installment of the MetroHealth Scholars program, an eight-part series that is introducing Rhodes and Lincoln-West High freshmen to medical and other career opportunities in health care.
The students were taken in groups to several other locations beyond the helicopter pad, including a visit to the MetroHealth Simulation Center, where hospital employees practice life-saving techniques on high-tech dummies. Several students were frustrated when they initially failed to intubate an infant-sized practice dummy. One student snapped off the "virtual teeth" of an adult dummy while forcing the small tube down its throat.
"It's not that easy, is it?" said Jackelyn Csank, manager of the center. Maybe not, but most of the students in the first of five groups to tour the center kept trying until a few of them mastered it.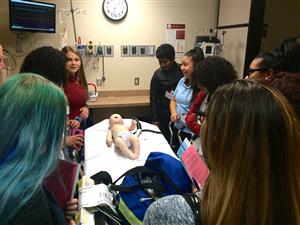 That eventual mastery – and a desire to stick to a job through tough times – is only part of what hospital mentors are hoping to impart to the CMSD scholars.
The new program, which followed after a pilot mentoring program last year with Lincoln-West juniors, grew from MetroHealth President and Chief Executive Offer Akram Boutros' desire to expand the system's partnership with the District.
Hospital officials told the students Tuesday that there are more than 1,000 different job descriptions among the nearly 7,000 employees at MetroHealth.
Lourdes Negron-McDaniel, Metrohealth's director of inclusion and diversity and a Lincoln-West graduate, had one simple message for the students.
"You can do this," she said, repeating what she said other mentors had told her as she grew up in the same Cleveland neighborhoods as many of the students.
Negron-McDaniel attended what is now Luis Muñoz Marin, (then Lincoln Junior High) and graduated from Lincoln-West in 1987.
"I'm very invested in and care about this neighborhood – and you," she said.
Four Lincoln-West seniors who took part in last year's pilot mentoring program and completed three-week internships over the summer at MetroHealth also talked with the sometimes fidgety crowd of first-year high school students. Each of them urged their younger classmates to take advantage of what the partnership between the District and hospital was offering.
"We just had this for one year, and you get to do it for four years," said Mirika Mpagona, a Tanzania-born Lincoln-West senior who said she wants to study to be what she called a "traveling nurse."
"I want to see the world, but I want to help people everywhere," she explained. "The mentoring program at MetroHealth helped me become a better person, a more positive person, and I believe I can do it."
Fellow senior Raymond Salukumbo, who interned in the stroke unit last summer, told the ninth-graders to "do what you love and enjoy doing it."
Some of the first-year students said they were interested in jobs in the hospital system or a related field because of relatives who have also worked in the medical field or because of their exposure to MetroHealth through District programs.
"I want to be a doctor," Rhodes ninth-grader Andres Zenon said. "My mom works at MetroHealth already."
Rita Andolsen, MetroHealth's chief communications officer, kicked off the program. She stressed the opportunity students have to be connected to a working hospital and learn as much as possible.