Return to Headlines
800 students attend anti-bullying summit (video)
CMSD NEWS BUREAU
10/22/2015

More than 800 CMSD junior high and high school students strengthened their resolve against bullying and picked up new tools for the fight this week
at the District's second annual Teen Summit at the East Professional Development Center.
Teens from throughout CMSD attended workshops on one of two days, listened to lectures and took part in role-playing games and discussions about how to be "up-standers, not bystanders" in the crusade to wipe out bullying.
While the anti-bullying movement has gone mainstream in recent years, capturing the attention of celebrities and talk-show hosts, the battle remains real for the country's youth especially, several experts said at the summit.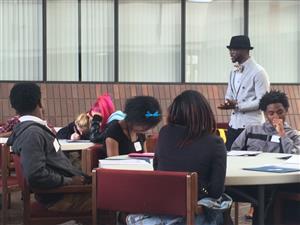 "Yeah, it's real - absolutely real," said Jerod Johnson of NOW (Not on Our Watch) Mentoring, one among dozens of volunteers and partners who led teen discussions at the summit. He encouraged students to share details from their own experiences (see photo at right).
One outspoken eighth-grader from Joseph M. Gallagher School said bullying had caused him to think about hurting himself. That was before he joined his school's NOW program.
"We need to fight back because there are a lot of kids hurting out there," he said before Johnson's session.
Johnson urged the CMSD teens to get involved in NOW to take back their schools with kindness.
"You know what happens when there's a fight in school -- everyone gathers around and some people just want an audience," he said. "But we're in the NOW program -- Not on Our Watch -- and that means not watching something happen.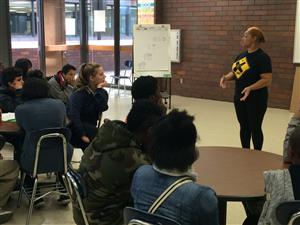 "That's what a bystander does - he watches. But an up-stander says 'Chill out, relax,' and avoids the unecessary confrontation."
At its root, the basic tenet of any anti-bullying campaign is as simple and important as that of the District's customer "Communicate with HEART" service initiative, said Denine Goolsby, executive director of the District's Humanware Department. She said both are ways to reach out to students and employees with a call to be kinder to each other.
"This program is very strongly connected to all of our SEL (social and emotional learning) initiatives," she said. "We want to educate the entire student and that means reaching them in this area, in giving voice to our students of all ages."
Bri Otey, a 2002 Max Hayes graduate and current training coordinator for Winning Against Violent Environments, another anti-bullying program in the District, walked the teens through a session on cyber-bullying -- taking the meanness of bullying to social media channels like Instagram, Snapchat or Facebook. (See photo, above right)
"Pay attention when it comes to social media," she said. "Pay attention to what you say, because once you put it out there, that's it – even if it's erased, it can still be found."
Otey said the social media hashtag #tbh – which stands for "to be honest" – can be especially cruel as teens and adults use it as an excuse to be cruel to someone else.
Students also talked about how socially accepted behavior like "riding" or "flaming" extends from the real world into social media. Both words describe a modern version of what adults sometimes call "the dozens," group sessions of escalating insults, often directed at one person.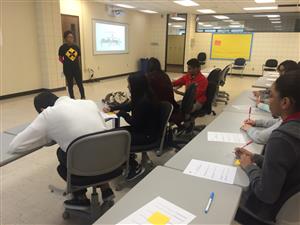 In one of the summit's final sessions, students from the John Marshall High School campus worked with professional social worker Angela Flowers and Tondlaya Banks, a board member at
Reading Ramm Academy
, a summit sponsor. She had the students play a round of the game "Cross the Line," most readily recognized from the film "Freedom Riders."
The students lined up on a masking tape line on the floor. When Banks would call out a directive – "Cross the line if you've ever witnessed violence," or "Cross the line if you've ever seen someone being bullied and stood by without doing anything" – students would either stay put or step across to another taped line.
Banks and Flowers would then lead the teens in a discussion about action or inaction in certain situations.
"October is National Bullying Prevention and Awareness Month, which is a good thing, but we also know that it still happens every day," Flowers said. "We know that one-fourth of all teens will be bullied at some point and that 80 percent of arguments with a bully end in violence, so this is very serious."