Return to Headlines
CEO's student advisors tackle attendance (video)
CMSD NEWS BUREAU
10/23/2015

CEO Eric Gordon on Friday called into action about 400 of CMSD's most engaged and ambitious high school student leaders, asking them to do their part – in person and on social media – to further energize the "Get 2 School. You Can Make It!" attendance campaign.
The District's attendance push has already
enjoyed early success:
When the first quarter ended Friday, just under 63 percent of CMSD students were on track to finish the school year with fewer than 10 absences. That's a 4 percent increase from the average for the previous three years and represents an additional 1,700-plus students.
But Gordon and District Chief of Strategy Implementation Kevin Khayat said Friday that the gains are only one win in a constant battle to make sure students are in class. So they brought the attendance matter to the CEO's Student Advisory Committee in an effort to bring the initiative to the people most affected by it.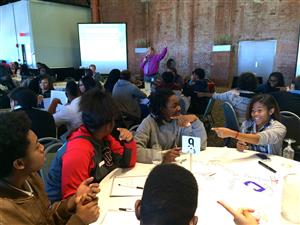 Dozens of students brainstormed at individual tables at Windows on the River, coming up with what they thought would be good incentives to reward students who make it to school, particularly on low-attendance days such as the days before and after holidays or snow days.
The campaign committee calls those occasions "You Can Make It" days.
"These students can help us put real life into this campaign," Khayat said. "We can come up with prizes and incentives, but their voice is the one that matters. We realize that at their age, they are often the ones who decide whether they are going to make it to school or not."
The campaign accepted volunteers Friday to form a subcommittee that will finalize ideas for rewarding students who make it to school on the "You Can Make It" days.
CMSD launched the "
Get 2 School. You Can Make It!" campaign i
n July and followed with a social media campaign spurred by Gordon's comical "At10Dance" performance. Other tactics have included phone calls
and home visits
to remind families to help their children make it to school.
District data shows that students who are absent more than 10 days in a year score 12 points lower on state reading tests and 15 points lower on math tests. Students who are out that many days in early grades are 9 percent less likely to meet Ohio's Third Grade Reading Guarantee, required for promotion to fourth grade. Ninth- and 10th-graders become 34 percent less likely graduate.
The students gathered on the second floor at Windows on the River tackled the topic with enthusiasm, cheering proposals aloud and making posters that reflected their ideas.
Five students from the new John Marshall School of Engineering batted ideas back and forth, from improving lunches (Chipotle!) to changing the dress code, but they kept coming back to the heart of the attendance matter.
"For me, I have to look at it this way: I always say 'Struggle now, be happy later,'" said one sophomore. "I get up and go to school because I want to be my own boss someday. I'm not yet, and that's OK, so I'll struggle now."
A fellow sophomore agreed, but with a caveat: "I want to be in school, too, but I want something back," she said. "I want to see better lunches in our school, and I want to see the menu in advance, so I know what to expect."
Changes to school lunches and even the dress code at a handful of schools were among the changes put in place last school year by the District upon the recommendation of the CEO's student committee, said Denine Goolsby, executive director of the CMSD Humanware Department. Humanware oversees what educators refer to as social and emotional learning.
"Real change is coming out of this committee, and it will continue to do so," she said. "This is not for show. We want to listen to our students."
Gordon raced around the room at one point, stopping at each table with a microphone to have a spokesperson for the table announce the incentive they would like to see for good attendance.
"It's fabulous -- the kids really respond to Eric," Khayat said. "And it reminds us why the work is so important."
The Student Advisory Committee, which formed in 2013, meets four times a year. The CEO told the students Friday that the committee was held up as a national model last week in California at an annual conference of the Council of the Great City Schools, a group that represents 68 large U.S. school districts.
The Cleveland Plan
, a customized blueprint for reform approved by the state legislature, calls for CMSD students to have a voice in their education. Gordon reminded the committee members that they are the only students in the country who have a say guaranteed by law, and he encouraged them to use it.
"I need to know, from the people who are living it, what's working and what's not," he said.