Return to Headlines
Students energize "Get 2 School" campaign
CMSD NEWS BUREAU
11/6/2015
District strategists and the "Get2School, You Can Make It!" committee are branching out into new territory at the request of CEO Eric Gordon: Enlisting students in the campaign to improve attendance.
Nearly 30 pizza-and-chicken stuffed CMSD students (hardly anyone touched the salad) laughed, fooled around and then brainstormed and got down to business after school Nov. 5 at the Rascal House at Cleveland State University.
The students make up the volunteer subcommittee of Gordon's Student Advisory Committee, which represents the District's high schools and provides the CEO with feedback and direction on issues and concerns. The committee tackled the attendance issue at its quarterly meeting in October.
At that larger session at Windows on the River in The Flats, several hundred students participated in similar brainstorming exercises and came up with dozens and dozens of ideas.
The subcommittee's task: Determine realistic incentives to get students to come to school each day. They paid particular attention to what the District and attendance committee call "You Can Make It! Days" – the days following a holiday or snow day, when attendance often drops dramatically.
The campaign has made some progress: After one quarter, just under 63 percent of CMSD students were on track to finish the school year with fewer than 10 absences. That's a 4 percent increase from the average for the previous three years and represents an additional 1,700-plus students coming to school.
But Gordon and District Chief of Strategy Implementation Kevin Khayat have enlisted a student army to take the next step.
"These students can help us put real life into this campaign," Khayat said at the October meeting.
During the meeting at the Rascal House, he said the student ideas will be key to getting students back to class on "You Can Make It! Days."
Students from across the District refined a wide-ranging list of incentives, boiling them down to those they believed would be most effective.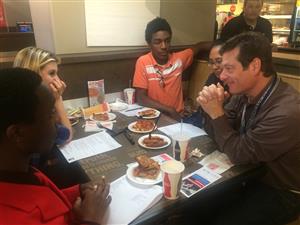 "Think about this: It's a Friday and the day after a snow day, and you've got the chance for a four-day weekend if you just skip school and go back to bed," Khayat told a table of four students, two from New Tech West and one each from Ginn Academy and the Cleveland School of the Arts. (See photo, right) "What could you possibly say to your fellow students to get them to school that day?"
Students around the room tried to answer that question, suggesting incentives as simple as a pajama day or dress-down day to college visits, college scholarship money or even a trip out of the country for a grand-prize winner in a contest.
The high school students were also tasked with producing ideas that might better convince their K-8 counterparts to come back to school. They suggested things like ice cream parties or Disney On Ice tickets.
Stephanie, a junior at the Cleveland School of the Arts, said the struggle is real for students to make it to school – on many days and for many reasons.
William, a freshman at New Tech West, said he wants to change the perception that all students who miss a lot of days are "bad."
"Sure, there are some students who just aren't going to come, but there are a lot more of us out there who just need someone to tell them or help them get to school," he said.
Khayat said that's exactly the kind of talk he was hoping to hear from the students. "Only they know their world," he said. "It will be their ideas that convince their friends to come to school."
CMSD's Bishara Addison, project manager for strategy implementation, guided the groups through a presentation of each of their refined lists and quizzed them about how they and their peers would best like to be contacted when school resumes after a day off such as a snow day.
The students suggested everything from the existing automated phone calls, to social media contact via Facebook, Twitter, Snapchat or other apps.
Addison and Khayat gathered up the oversized note pages from the various groups and will compile them into a list for Gordon.
"We have a lot of work yet to do," Khayat said. "There are some good ideas here, but now we've got to put them in place in a way that the students will really respond to."
CMSD launched the "Get 2 School. You Can Make It!" campaign in July and followed with a social media campaign spurred by Gordon's comical but serious "At10Dance" performance. Other tactics have included phone calls and home visits.
District data shows that students who are absent more than 10 days in a year score an average of 12 points lower on state reading tests and 15 points lower on math tests. Students who are out that many days in early grades are 9 percent less likely to meet Ohio's Third Grade Reading Guarantee, required for promotion to fourth grade. Ninth- and 10th-graders become 34 percent less likely graduate.