Return to Headlines
Committees to help shape new small schools
CMSD NEWS BUREAU
11/20/2015
A broad cross-section of the community came together this week to begin shaping a vision for three new small CMSD high schools.
Parents, teachers, students and alumni, elected officials, representatives of business and nonprofit organizations – about 60 people in all – make up the advisory committees that will draft guiding principles for new educational designs at James F. Rhodes and Lincoln-West high schools.
"You are going to be our standard bearers," Chief Portfolio Officer Christine Fowler-Mack told a joint meeting of the panels Tuesday at the downtown Hilton Garden Inn. "You are going to help keep us accountable to the goals and objectives we set forth."
Carnegie Corporation of New York has provided $3 million to plan the new schools and ensure a successful rollout. The foundation previously provided money for two new designs now in effect for John F. Kennedy High School: JFK PACT (Problem-based Academy of Critical Thinking) and JFK E³agle Academy (the E's stand for Engage, Envision and Excel).
At Lincoln-West, two small schools – one with an international studies theme, the other focused on science and health – will open at Lincoln-West next fall with ninth- and 10th-graders and then expand a grade level per year. Older students will remain on what will essentially be a campus until they graduate.
At Rhodes, one small school, its theme as yet undetermined, will start with ninth-graders at Rhodes in the fall, to be followed by a second in 2017. Ninth-graders who enter Rhodes this fall can choose between the new design and the existing program.
Carnegie Corporation has developed its own research-based design principles that are aligned with goals of 21st Century college and career readiness.
The foundation's principles emphasize a tailored approach that meets the specific needs of the school, its students and the community, including a focus on personalized learning and mastery of a rigorous curriculum. The advisory committees will add a local perspective.
Schools, guided by Carnegie Corporation principles, adopt strategies that include flexible scheduling, more effective use of technology, clear definition of school culture, partnerships with outside organizations and student input in decisions. The schools also adopt the emerging concept of mastery learning, in which students advance toward graduation as they demonstrate that they have mastered content.
"We are preparing students for a profoundly different future," said Fowler-Mack, whose office oversees development of CMSD's new school models and provides support in the first few years. "Their future, not our past."
The committees heard about the history of The Cleveland Plan, a state-approved education reform plan designed to make a quality education available to every neighborhood in the District. New school options are among the many strategies being used to achieve that goal.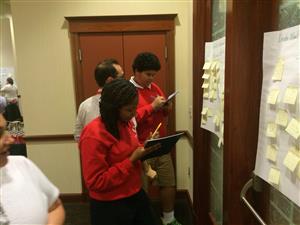 Committee members also split into small groups to discuss their hopes and fears for the new models and posted those around the room (See photo at left). Hopes for the schools included the latest in technology, exposure to a wide range of career paths and ranking among the best schools in Cuyahoga County; fears included overcrowding and failure to sustain the design
Andre Zenon, a ninth-grader at Lincoln-West, sits on the committee for the international studies school but has his eye on the school of science and health. He is considering becoming a doctor or nurse, though choosing a school with a science and health theme won't limit his options after graduation.
Andre likes having choices but also sees benefits to the smaller setting. "I will concentrate more and not good around," he said.
City Councilman Brian Cummins, who sits on the advisory committee for the international studies school, said the community is excited about the new designs coming to Lincoln-West.
Cummins said the designs will build on assets like the rich ethnic mix at Lincoln-West, said to be one of the most diverse schools in the state, and the MetroHealth System, which will be a "signature partner" at the science and health school. He said the program changes, combined with a new building planned for Lincoln-West, will complement other development in the West 25th Street area.
"There's just a lot of investment, both public and private, that's beginning to occur," he said. "It really feels like we're firing on all cylinders."
The advisory committees will meet four or five times between now and February. Design teams, composed primarily of educators, will then work on the models.
CMSD has developed other small schools, including three that opened in August at the new John Marshall High School campus. Others include three small schools that were created 10 years ago at what is now called the John Hay Campus and stand-alone models like MC2STEM High School and Bard High School Early College.