Return to Headlines
AFT leader views career-tech reform (video)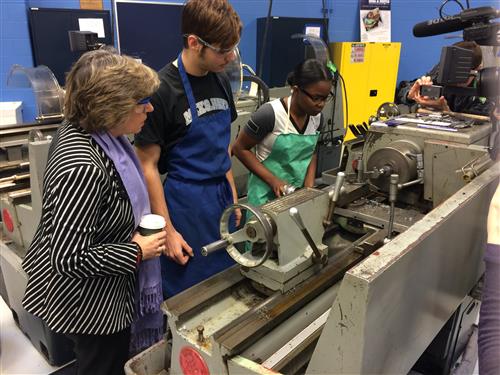 CMSD NEWS BUREAU
11/23/2015
American Federation of Teachers President Randi Weingarten visited Cleveland on Monday to see how the District is changing career and technical education to meet the needs of students and the modern work force.
Escorted by leaders of the AFT-affiliated Cleveland Teachers Union, Weingarten toured Max S. Hayes High School's new state-of-the-art building on West 65th Street. She spoke with instructors and students in classes that included computer numerical control machining, automobile technology and building and construction.
Max S. Hayes, named for a Cleveland labor activist, is part of the evolving
Academies of Cleveland
, an umbrella for CMSD's five career-tech schools. The schools are overhauling and aligning their career "pathways" to satisfy needs in the job market.
Weingarten learned about industry certification available to Max Hayes students and the role of outside technical advisory committees that are helping to shape curriculum.
"You see the magic of public education, taking kids' imagination and creativity and focusing it, not just on life skills and jobs skills, but a pathway to the future," she said.
The reshaping of career-technical education is aligned with
The Cleveland Plan
and the reform blueprint's goal of offering quality options throughout the District. Planners want to ensure that that Academies of Cleveland graduates are ready for high-tech, high-skill jobs and the college or post-secondary training those frequently require.
"I think we have a great opportunity with the Academies of Cleveland model to show the students and the community how career-technical education and academics are both necessary for students to be successful in the workplace once they leave high school," said Shari Obrenski, CTU's point person on the initiative.
The career-tech schools will work closely with business, industry and labor. At Max Hayes, instructors listen closely to outside experts, said Anthony Kazel, an instructor in machining and metalworking.
The business community and
Ford Next Generation Learning
, a nationwide education initiative sponsored by the Ford Motor Company Fund, are guiding the career-tech planning with support from the Cleveland Foundation.
The other Academies of Cleveland schools are the Jane Addams Business Careers Center, Martin Luther King Jr. Campus, Washington Park Environmental Studies Academy and Garrett Morgan School of Science.