Return to Headlines
Max Hayes students impress Leadership Cleveland
190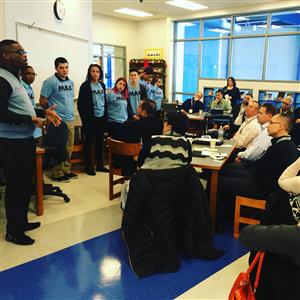 CMSD NEWS BUREAU
12/4/2015
Student leaders at
Max S. Hayes High School
weren't rattled a bit when asked a tough question by one of the Cleveland civic leaders who visited the school Thursday morning.
The representative from the
Cleveland Leadership Center
, touring the school with about two dozen others, wanted to know how the students planned to rise above the daily challenges of growing up in a city and culture that are not always kind to ambitions for education and improvement.
"I'm going to be the first one to go to college, and I'm dedicated to that," the first student responded. "I'm focused on that and nothing else."
The next one said: "My family pushes me every day, and all of these statistics saying I won't graduate and or won't go to college, I want to prove them wrong," he said.
"Cleveland kids can do something, and we mean something in the world. We're not just a statistic somewhere."
A third said: "My Mom pushes me to do even better than I already am, so I want to make sure I go to college and I'm successful in life."
And on it went, as each of more than a half-dozen Max Hayes students answered the question confidently, expressing certainty that he or she would move on to college after their CMSD days are over.
The room erupted into applause.
Since 1977, the nonprofit Cleveland Leadership Center has selected senior-level leaders throughout the region to take part in an intensive 10-month program that helps them work collaboratively on critical community issues.
Damon Taseff of Allegro Realty Advisors, Ltd., also helped organize the visit. He said Max Hayes was a perfect site for a two-hour visit and tour.
"Our education committee is trying to highlight and showcase collaborative relationships in education across Greater Cleveland, and this is a great example of that in the high school realm," he said.
Winslett called the planning, construction and operation of Max Hayes a "transformative collaborative." The business community was involved in planning the school and continues to provide guidance that will help align curriculum with the needs of the modern workforce.
"The innovation and collaboration that is going on is exceptional," she said, praising the school, the community and support from partners like the manufacturing group Wire-Net and the George Gund and Cleveland foundations for the Academies of Cleveland.
The Academies of Cleveland is an umbrella for CMSD's career-tech schools, which are overhauling and aligning their career "pathways" to satisfy needs in the job market. That endeavor is aligned with
The Cleveland Plan
and the reform blueprint's goal of offering quality options throughout the District.
"It's all to really improve the education for students, including in a career-tech world that is very different today than it was years ago," Winslett said. "At Max Hayes, we can see that it is about getting engaged with community, professional development and leadership. It's not just school, it's not just sitting in a classroom, it's working hands on and that's what the real world is."
Max Hayes' new $48 million, two-story building opened Aug. 18 and can serve up to 800 students. The facility combines state-of-the-art technology with programs that the Cleveland Building and Construction Trades Council, WIRE-Net and other industry partners are helping to shape.
Students can train in one of four career paths: construction, automotive technologies, information technology and manufacturing and engineering.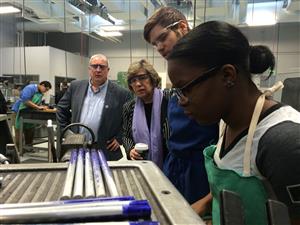 Principal Kelly Wittman thanked the group for visiting and reminded them that CMSD, its administrators, teachers and students can't succeed on their own.
"We need you. We need you to be part of this journey with us," she said. "We need businesses to provide an opportunity for our kids to come on site, and we even need you to provide those opportunities for our staff."
It was the second time in two weeks that Max Hayes was the center of attention.
American Federation of Teachers President
Randi Weingarten visited the school Nov. 23
(see photo, right) to get a firsthand look at how CMSD is changing career and technical education to meet the needs of students and the modern work force.