Return to Headlines
Ginn Academy, Joseph Gallagher win team chess championships (photo gallery)

CMSD NEWS BUREAU
1/15/2016
CMSD's latest champions of chess were crowned just before the winter break after a day-long tournament at East Professional Center and featured winners both old and new.
The team from Joseph Gallagher won the K-8 title for the second year in a row and swept the individual championships: Pradip Rai took First Board honors and Dewash Thapa won the Second Board championship, a title Pradip had won last year. First-Board games feature the higher-ranked players.
Those performances capped off a five-week team competition in November and December in which Joseph Gallagher accumulated 20 points, holding off runner-up Patrick Henry (18). Miles Park ended up in third, tied with the Kenneth Clement Boys Leadership Academy with 16 points each.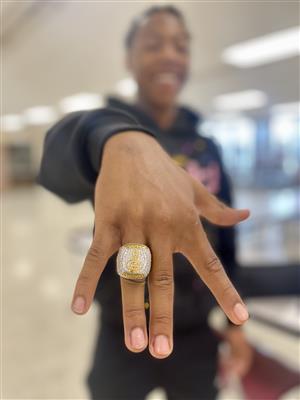 Miles Park, which had led the team standings after the first two rounds, had both second-place finishers: Brandon Burley on First Board and Lynell Lynch on Second Board.
Dozens of District players from eight high schools and 10 K-8 schools had been competing in November and December at various sites to determine the champions. All 18 teams gathered as East Professional Center on Dec. 7 for the finals.
Ginn Academy took the team championship among the high schools, its first ever, after finishing a distant sixth last year. Ginn scored 9 team points, overtaking Max Hayes in the second round and then holding off Cleveland School of the Arts (17.5) and the John Hay campus (16.5).
But CSA had the top two individual champions among the older players: Christian Thornton was the First Board winner and Noah Culbreath won Second Board.
Ginn Academy swept the No. 2 spots with runners-up Howard Hale on First Board and Trevor James on Second Board.

K-8 Schools
1. Joseph M. Gallagher - 20 pts.
2. Patrick Henry – 18 pts.
T-3. Kenneth Clement and Miles Park – 16 pts.
5. Clara E. Westropp – 12 pts.
6. Adlai Stevenson – 11 pts.
7. James A. Garfield – 7.5 pts.
8. Artemus Ward – 6.5 pts.
9. Benjamin Franklin – 6 pts.
10. Warner Girls Leadership Academy– 4 pts.
High Schools
1. Ginn Academy – 19 pts.
2. Cleveland School of the Arts – 17.5 pts.
3. John Hay – 16.5 pts.
4. Max Hayes – 12.5 pts.
T-5. MC2Stem and New Tech West – 9 pts.
7. SuccessTech – 7 pts.
8. Whitney Young – 5 pts.