Return to Headlines
John Marshall students to run coffee shop
CMSD NEWS BUREAU
1/29/2016
Students will learn by doing as they manage and staff a coffee shop at CMSD's John Marshall Campus.
The Lawyer's Café is tentatively scheduled to start serving in late February. It is a project of the John Marshall School of Civic and Business Leadership,
one of three small high schools
that opened in the West 140th Street building last August with ninth- and 10th-graders.
A committee that planned the school wanted to include a "place of community" and suggested developing a coffee shop that eventually could operate on some evenings and welcome the public, Principal Sara Kidner said. But the experience also might give teenagers ideas for their future.
"We're trying to encourage them to see entrepreneurship as an option," Kidner said. "Starting something like this from scratch, they see all the behind-the-scenes work that goes into it."
The owners of locally based
Rising Star Coffee
volunteered to act as consultants for the student-run start-up, which is not incorporated. Rising Star has offered guidance on the menu, financing, inventory control, equipment and other details, said John Johnson, a partner in the company and its "director of coffee."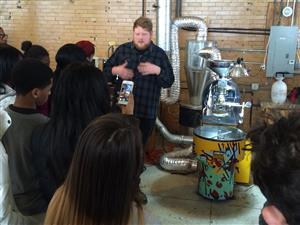 About two dozen students are handling research and development of products, marketing, finance and customer service. They will not get paid, but their hours will help satisfy the school's community-service requirement and profits will go toward school activities.
The students first had to interview with a panel that included Monisa Mason, who works as the school's liaison with businesses and other segments of the community. Johnson would occasionally sit in.
The ninth- and 10thgraders had never been through a job interview, and their anxiety was evident, Mason said. But they performed well enough that she hired them all at least as substitutes.
Sophomore Onyango Pearl, part of the finance team, saw the job as an opportunity to apply his math skills. But he said the experience also has helped him to open up in a group.
"I'm learning to work with other people better," said Onyango, who wants to study business in college.
Ninth-grader Adalis Sanchez is a member of the research and development team and has helped explore flavors and pricing. She said students are eagerly anticipating the café's opening.
"A lot of people are really excited," said Adalis, who thinks about someday owning a cosmetology business. "I'm a coffee drinker; I love it."
At first, Mason said, the coffee shop will operate two mornings a week, with hours of 7:30 to 8:45 to limit conflicts with classes. The business will be based in the John Marshall concession stand and have no seating, so orders will be takeout only.
The menu will be restricted to coffee drinks for now. Students surveyed pricing at places like McDonald's and Dunkin Donuts and settled on a range of $1 to $3.50, depending on the drink.
"We don't want it to be too expensive," Adalis said. "It's high school students."
The café crew heard about the finer points of business from Rising Star staff. Pete Mitchell of Mitchell's Homemade Ice Cream spoke to them about customer service.
Erin Molner, who started as a Rising Star barista and now serves as the company's director of retail operations, addressed the Lawyer's Café finance staff after school one afternoon in December.
The self-proclaimed data nerd told the students that start-ups have to make meticulous lists of supplies, quantities and expenditures. She said that to be sustainable, the coffee shop must generate money for reinvestment.
"Tons of teeny-tiny things you don't think about add up," she said. "I'm talking about dish soap. I'm talking about trashcans. things in our everyday lives."
In December, students from all of the café employee groups toured Rising Star's West Side roastery. (See photo above.)
They learned about coffee beans, discovered where the company's beans are grown and observed the roasting process. Founder Gary "Kim" Jenkins had them blindly sample candy Skittles while holding their noses so they could understand the relationship between aroma and taste.
Johnson, who led the tour, thoroughly enjoys sharing his passion for coffee with others. The company also likes to educate the public about its fair-trade coffee and the products' origins in Africa and Central and South America.
"We try to forge connections between our customers and our growers," he said. "Too often nowadays, everything is reduced to a commodity and a bottom line."
Kidner and the school plan to solidify that connection by arranging for the students and growers to have video conversations via Skype.
The George Gund and Cleveland foundations awarded $100,000 to help the School of Civic and Business Leadership launch the coffee shop and a credit union that will come later. Kidner said the credit union will offer savings accounts for students and staff.