Return to Headlines
30 athletes sign letters of intent (photo gallery)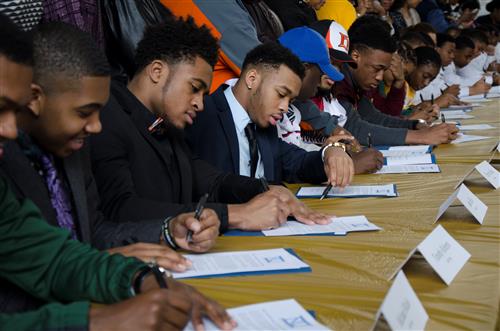 CMSD NEWS BUREAU
2/3/2016
Thirty CMSD student athletes began taking their games to the next level Wednesday, signing National Letters of Intent to compete at colleges and universities.
The group was the largest yet to join
the nationwide ritual
since the District began organized signings 10 years ago, and it pushed the total who have participated to more than 200, said Vincent Marquard Jr., commissioner of interscholastic athletics.
The Interscholastic Athletics Department prodded coaches and athletic directors to work harder this year on connecting students with scholarships. Marquard estimated that the 30 students will receive a combined $2 million.
Twenty-five of the students, 18 of them from Glenville, play football. The other five participate in basketball, including two female athletes, both from East Tech, who joined what has been an all-male ceremony. Shantell Bostick will go to North Carolina A&T and Corrione Cardwell will attend North Carolina A&T.
Among the football players was Glenville linebacker DeMann Wilson, who will go to the U.S. Military Academy at West Point.
Wilson attends CMSD's all-male Ginn Academy, which does not have a football team. Ginn Principal Nicholas Petty watched proudly Wednesday as praise was heaped on his student in the atrium of the District's East Professional Center.
"He's a Class A guy," Petty said. "His respect for his parents, his teachers, me. He always carries himself in a mannerly way. He's always looking for advice. He takes criticism, and he reacts to criticism to make himself better."
Glenville coach Ted Ginn Sr. called his contingent a "special group" who all "bought in to what was presented to them about being student athletes."
Ginn's nephew, Glenville wide receiver Jeff Ginn Jr., signed a letter of intent to play for Fordham University. This is a big week for the coach, whose son, wide receiver Ted Jr., will play for the Carolina Panthers on Sunday in the 50th Super Bowl.
John Hay Campus, a collection of three small schools that require a B average for admission, sent the second largest delegation – three basketball players and three football players – to the signing ceremony.
John Hay basketball point guard Anthony Donerson, bound for Albion College in Michigan, carries a 3.5 average. He intends to major in business and minor in marketing.
"I might start out in a business and learn and then pursue my own business," he said. "I want to get into sales, marketing, maybe clothes."
John Hay running back Treyvon Akins will play football for Ashland University. An A student, he is active in the community and works with teenagers through his church – or, as he puts it, "regular stuff, stuff we should all be doing." He dreams of playing his sport professionally, but if that doesn't work out he has a backup plan that has an altruistic component.
"I'm going to be a lawyer and help shape the community, anything where I know I'm helping others," he said.
The student athletes sat side by side and signed their letters in unison, proud parents standing behind them. John Adams football coach Gary Jackson lauded the parents, saying "They contributed way more than me. All the credit goes to them."
Before the signing, Chief Operating Officer Patrick Zohn, representing CEO Eric Gordon, cited the students' accomplishments on the field or court. But he reminded them that for every athlete who makes a mark in sports, many times that number log their accomplishments in professions like medicine and engineering.
"You don't have to play sports to be a superstar," he said.