Return to Headlines
Movie shows students East Tech icon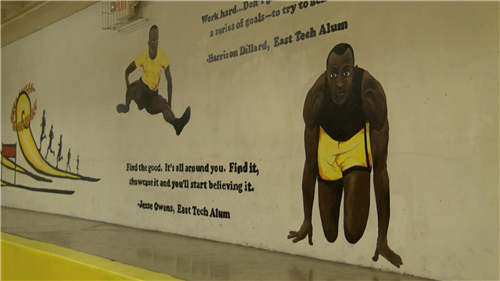 CMSD NEWS BUREAU
2/19/2016
East Tech students had added incentive to attend a private screening of a new movie on Thursday morning. They are walking – and in some cases running – in the footsteps of the main character.

"Race," which opened nationwide Friday, tells the story of the legendary East Tech runner Jesse Owens and his historic performance in the 1936 Berlin Olympics. Owens won four gold medals and dealt an embarrassing setback to Adolf Hitler's racist Nazi regime, even while he faced rejection and discrimination in his home country.

About 300 students, a majority of East Tech's enrollment, attended the screening at Tower City Cinemas. DoMore4:Good, a community-service organization that works with students at East Tech and Collinwood High School, contacted Focus Features, the movie's distributor, and arranged the showing.

Shaun Thompkins was moved to take action in his own life.

"The movie was awesome, everything about it," he said. "It just inspires me to do great things. The way I'm going, they said I'm doing good, but I want to do better."


Junior Maleka Dobson was moved to tears.

"It was beautiful," she said. "It really made me realize that you can go forward and do what you want to do without people telling you what you can and can't do.

"I'm glad he did graduate from our school. I always talk about that. Jesse Owens graduated from our high school. It's amazing to have someone like him and his legacy."

DoMore4:Good is leading an ongoing effort to repaint and rededicate East Tech's indoor track, which is named for Owens and includes a mural honoring him and Harrison Dillard, another four-time Olympic gold medalist who graduated from the school. (See photo above.) The organization wanted to honor the Olympic athlete's legacy, said Sharon Kidd, Cleveland program manager.

East Tech athletic director and 1988 graduate Leroy Carter has been emphasizing Owens' legacy to students, making sure they are well informed when asked about their school's famous alumnus.

Carter ran track at East Tech, went on to compete at Central State University and then coached the girls track team at his old high school for 20 years. He said Owens can serve as an example for students no matter what interests they pursue.

East Tech held an assembly on Feb. 16 to prepare students for viewing the movie. A trailer for the film drew a hearty cheer.

Aki Bradley, a 1990 East Tech graduate who starred in track both there and at Mississippi State University, addressed the audience. He said Owens and Dillard helped give East Tech a reputation in the sport that grew far and wide.

"I always will brag about this place," said Bradley. "When you put on the brown and gold, it meant something."

Senior Darquill Wells, a current member of the East Tech track team, has been up on his history since before he became a Scarab.

"I knew he came out of East Tech; that's one of the reasons I wanted to come to East Tech," Darquill said. "He was one of the greatest."
On Feb. 8, Stephan James, who plays the role of Owens in "Race," visited the Cleveland School of the Arts and spoke with students from a set in the school's black box theater. CSA students had painted a mural honoring Owens that is on display at the city's Lonnie Burten Recreation Center.