Return to Headlines
Social, emotional learning to expand
CMSD NEWS BUREAU
3/1/2016
Some CMSD high school students were inoculated with "social and emotional learning" when their education began, but they are going to receive what Chief Executive Officer Eric Gordon describes as a booster shot.
The District launched its program, held up as a national model, after tragedy struck SuccessTech Academy in 2007. A student serving a suspension returned to the building with a gun and wounded two teachers and two classmates before killing himself.
Gordon, then chief academic officer, had been with the District all of 10 days when the shootings occurred. He and other CMSD leaders vowed to always remember the horror of that day and get to the root of student sadness, isolation and anger.
Efforts to teach children how to manage their emotions and build healthy relationships began with the PATHS curriculum for preschool through fifth grade and expanded last year with the
introduction of Second Step
for grades six through eight.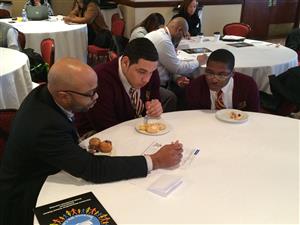 Attention turned to high school Tuesday when CMSD's Humanware Department, charged with helping students feel safe and supported, conducted its annual retreat at the downtown Hilton Garden Inn. The 100-member guest list included department staff, principals and students.
"Social and emotional learning is something that has to be integrated into our normal routines," said Denine Goolsby, executive director of Humanware. "The conversation is beginning today; we've never pulled high school together to talk about this work."
Keynote speaker Keeth Matheny teaches a mandatory social and emotional learning class – Methods for Academic and Personal Success – to ninth-graders in an Austin, Texas, high school.
Matheny talked about the connection between relationship skills and decision making to success in school and life. He emphasized the importance of teaching and modeling compassion, sympathy, patience, empathy and gratitude.
He told a poignant story about a little boy who came across a beach where a mass of starfish had washed up. Instead of despairing, he saved those he could by returning them to the sea.
"Every day, I show up in school and try to collect starfish," he said.
Matheny said human resources directors screen job candidates based on social and emotional skills. That resonated with Glenville High Principal Jackie Bell.
"It is so critical trying to get kids to understand what they are looking for out in the real world," she said.
John Adams junior Derrick Burrage also picked up on that point. He said social and emotional learning will "help your mindset" and show "you can still have fun while you're learning in school."
Data shows that CMSD's efforts to teach those skills are having positive effects, Gordon said.
Students from second through 12th grades rate the levels of safety, support and academic rigor in their schools on "conditions for learning" surveys taken three times a year. Ninth- and 10th-graders, the first students to complete PATHS, rate their schools two times higher than older students do, the CEO said.
In recognition of Cleveland's work, PATHS Education Worldwide,
held its annual conference in the city
two years ago. The nonprofit trains teachers in the PATHS (Promoting Alternative Thinking Strategies) curriculum.
Last year, the Collaborative for Academic, Social and Emotional Learning brought a
conference of its Collaborating Districts Initiative
to town. Cleveland and seven other large districts make up the initiative, which models SEL strategies.