Return to Headlines
Parent participation tops 90 percent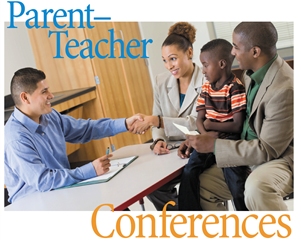 CMSD NEWS BUREAU
6/27/2016
CMSD's parent participation continued to increase dramatically during the 2015-16 school year, with 90.9 percent of parents and caregivers attending conferences with their children's teachers.
The number was up from 79.8 percent last year and 73.2 percent in 2013-14, the first time the data was kept.
"Our parents are engaged and committed to their children's success," Chief Executive Officer Eric Gordon said. "The participation data shows the depth of their interest and commitment."
The state law that made
The Cleveland Plan
, a customized blueprint for education reform in the city, to become reality calls for parents and caregivers to have meaningful face-to-face contact with their children's teachers at least once a year. Parents and caregivers have complied in droves, even though the law carries no penalty.
CMSD has tried to make the conferences more appealing – for example, by
having parents work in teams
to analyze data on their children's academic performance. Other formats have included letting students lead the discussion or adopting a "clinic style" arrangement, with teachers grouped at individual stations in the same room for parents' convenience.
Participation in conferences at K-8 schools reached 94.5 percent last school year, an increase of more than nine points. Efforts to boost lagging participation in high schools paid off, with 82.9 percent attending, a gain of more than 15 points.
Fifty-nine of CMSD's 100-plus schools achieved more than 90 percent participation. Two schools, Buhrer Dual Language and McKinley, reached 100 percent.