Return to Headlines
New teachers kick off 3rd BLUE Institute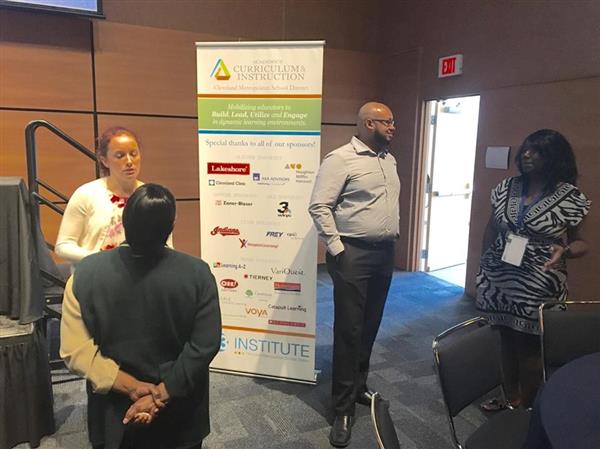 CMSD NEWS BUREAU
7/25/2016
As the first wave of CMSD students return to the classroom, hundreds of teachers are coming together for training that will lay the foundation for the upcoming school year.
Nearly 200 teachers who are new to CMSD gathered Monday at Tri-C Corporate College East in Warrensville Heights to informally kick off the third annual BLUE Institute. More than 450 returning teachers are expected to join them Tuesday through Thursday for professional development sessions on culturally responsive teaching, classroom management and a host of other issues related to urban education.
BLUE stands for Build, Lead, Utilize and Engage. CMSD's director of culture and strategy, Erica Merritt, said the sessions will expose teachers to cutting-edge curriculum strategies they can implement in their classrooms.
Teachers can choose from more than 100 workshops with titles like "Democracy in Action: Creating Engaged Citizens" and "Blending STEM and ESL Methodology for ELLs." The workshops are led by experts from Cleveland and around the country, including some local corporations and institutions, like the Cleveland Clinic, that are sponsoring BLUE. Teachers don't have to pay for the training.
On Tuesday, Chief Executive Officer Eric Gordon will tell new teachers about The Cleveland Plan and how they can individually play a part in the ongoing, districtwide reforms. CMSD Chief Academic Officer Michelle Pierre-Farid will wrap up BLUE with a speech on Thursday.
New Bolton teacher Camille Lewis said she has been waking up in the middle of the night after having nightmares about being unprepared for the school year. She said she wants to know more about planning and testing so she can make a big impact on her students.
That's where the Monday "pre-institute" came in.
The new CMSD teachers were split into cohorts based on their teaching licenses and grade placement. They learned about CMSD's culture and some background on the District. They also had the chance to pick the brains of veteran CMSD teachers about their experiences, gathering tips for engaging parents and using technology in the classroom.
Beginning Tuesday, the new teachers will mingle with returning teachers during professional development activities.
The BLUE Institute is one way the District is working to bring top-notch talent to Cleveland schools and to retain that talent over the years. The District has hired more than 900 new teachers -- nearly a third of the teaching staff -- over the past three years, said Brianna Koehler, executive director of talent acquisition and management.
Koehler says this year's new teachers are of high quality, having been vetted through a hiring process that accepts only 10 to 15 percent of applicants. The District has been working to raise the standards for new hires by adding more steps to the screening process.
"We did that for a purpose, and it's because we wanted a really rigorous selection process so that our scholars are getting the best of the best," Koehler said.
This year's crop of new teachers comes from diverse backgrounds and experience levels.
Janica Moore, who will be teaching at John Adams High School, said she is excited to bring her 16 years of experience teaching in Detroit and New York City back to where she grew up.
"There are so many kids who don't have exposure -- they don't think outside their small community," Moore said. "Looking at the news and current trends throughout the nation, I thought, 'Why not go back home to work and make a difference there?' " she said.
David Watson is coming to the District from Oberlin schools and is looking forward to new challenges in Cleveland. Watson, who recently made a career switch from social work, will teach at George Washington Carver.
"I'm really excited to see how my social-work experience is going to help me become a more dynamic teacher," Watson said.
Twitter users can follow the action throughout the week by searching for the hashtag #CMSD_BLUE3.