Return to Headlines
Photo exhibit brings Cleveland Plan progress to life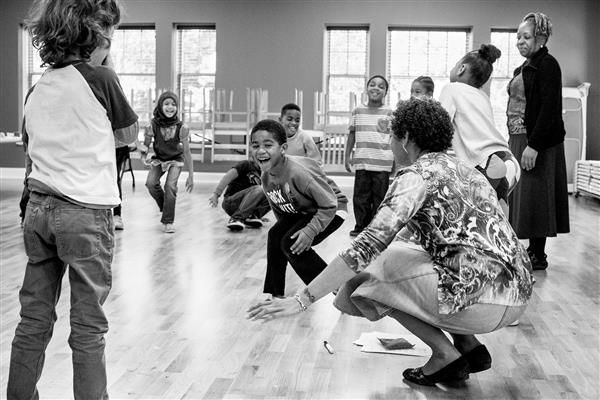 CMSD NEWS BUREAU
8/29/2016
Someone who last visited any CMSD school 10, or even five years, ago, may be surprised at what they'd see if they stepped foot inside the same school today.
This is the inspiration behind a series of photographs commissioned by the George Gund Foundation as part of its annual report on Cleveland schools. The exhibit, titled "Changing Minds," offers a look at how CMSD has transformed under
The Cleveland Plan
and provides visual evidence of this change for those whose impression of the school district may be outdated.
Award-winning photographer Lisa Kessler visited 11 District and charter schools last fall to document students and teachers in candid moments of their school day. The black-and-white snapshots -- which include images such as one of students clad in protective gear as they conduct a science experiment and another of dancers in mid-air as they perform choreography onstage -- demonstrate some of the District's approaches to public education. Kessler also captured human moments like a hug shared by a young boy and his teacher and elementary school students goofing around at recess.
From Sept. 2 to Oct. 28, the exhibit will be on display at the main Cleveland Public Library, 525 Superior Avenue. Various "traveling displays" will also be set up at CPL branches across the city this fall.
A slideshow version of the project is also available online, along with commentary from Kessler and the foundation's executive director, David Abbott.
Kessler wrote that she felt comfortable during her school visits and noticed that students and teachers proudly took ownership of their schools. The photographer also wrote that she was impressed with the mutual respect she observed between teachers and students.
"What I found in the district and charter schools in Cleveland are extraordinary staff who recognize young people's hunger to learn and to belong," Kessler wrote. "Schools that empower those adults to listen to students."
The project took Kessler to many of the District's unique "portfolio" school models, including Bard Early College High School Cleveland, which allows students to earn both a high school diploma and a two-year college degree in four years. She also took her camera to MC²STEM, where students spend their first year at the Great Lakes Science Center, their sophomore year at GE's Nela Park campus and their junior and senior years at Cleveland State University, taking college coursework alongside high school classes.
Abbott says the photos are proof that the resources the community has invested in CMSD are making a real difference.
"The old image of Cleveland's schools as failing, unsafe and unimaginative is rapidly being replaced by schools that demonstrate joy, inquiry, creativity, collaboration, critical thinking, use of technology and problem-solving," Abbott wrote. "And they make evident how Cleveland is breaking the one-size-fits-all model of education that has undermined American education for decades."