Return to Headlines
Stay the course with reforms, CEO says (video)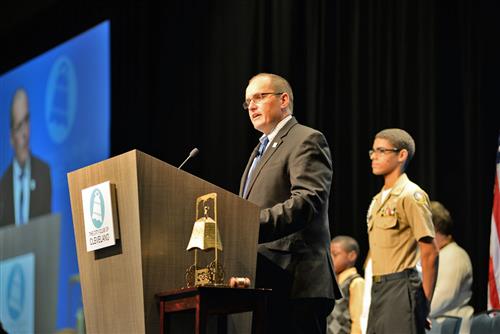 CMSD NEWS BUREAU
9/14/2016
The annual address, hosted by the City Club, drew more than 1,000 people to a ballroom at the new Hilton Cleveland Downtown. Delivering the talk for a sixth year, Gordon guided the audience through gains, including some that don't show up on a state report card. High points included:
CMSD's four-year graduation rate has set a series of new highs, rising from 52.2 percent to 66.1 percent in the last five years. The rate is expected to reach yet another record when new state report cards are released Thursday.
PRE4CLE, a partnership between the District and private providers, has added more than 1,200 high-quality preschool seats as it seeks to make sure that children in every neighborhood are ready to learn when they enter kindergarten.
The Higher Education Compact of Greater Cleveland reports that CMSD graduates are increasingly more prepared for college. And Cleveland State University and Cuyahoga Community College have found that more of them are persisting with their studies beyond the first year.
In the last two years, more than 85 percent of third-graders have met Ohio's Third Grade Reading Guarantee. Proficiency started both years at about 30 percent and soared, despite changes in state tests and higher cutoff scores.
CMSD was one of three urban districts, out of 21 that make their results public, to show gains on all four portions of the most recent National Assessment of Educational Progress, better known as the Nation's Report Card. The tests measure reading and math skill in the fourth and eighth grades.
The District has shifted authority from the central office to individual schools, tightened accountability and initiated change across the system without a "fully developed model" elsewhere in the country to imitate.
"Over the last four years, while we still have far to go, student achievement is moving," the CEO said. "CMSD students are increasingly ready to compete with students across the state and nation as we steadily move the system that serves them in the right direction."
The Cleveland Plan
, which is entering its fourth full school year, was made possible by a special state law that modernized work rules and a 15-mill levy that voters approved in 2012. The levy, which generates 10 percent of the District's budget, is up for renewal in November.
In recent reports, the
Cleveland Transformation Alliance
and
Innovation Ohio
separately sounded similar themes: Progress has been slow but press on. The Alliance is a watchdog group that the Cleveland Plan law established to monitor District and charter schools; Innovation Ohio is a policy think tank.
Innovation Ohio called
The Cleveland Plan
an "emerging path to improvement. The report said CMSD schools are "cultivating new school cultures and environments that could take as much as a generation to result in the kinds of improvements everyone wants."
"There are cultural changes happening at many schools," the report says. "Some may adopt them quicker than others. But fixating on test scores does an injustice to the truly transformational things that are happening in many different Cleveland buildings."

Gordon's speech drew heavily on references to the critique of a "Cleveland plan," not revealing until the end that then-Schools Director H.Q. Sargent wrote the document in 1895, before the city and District rose to prominence. Sargent then, like Gordon now, called for continued support.

"While this plan has not accomplished all that can be desired, it has worked so successfully that there is no thought in any responsible quarter of abandoning it, or of relinquishing any of its essential features," Sargent wrote.
Gordon closed with the hope that future generations would look back on the modern Cleveland Plan and view the city's people as visionaries.
"Let's make history, Cleveland," he said. "Let's make history again!"
After concluding the speech, Gordon fielded questions, including many from CMSD students. When Marcus Harvey, a senior at the Cleveland School of the Arts, asked how levy money had made its way to individual schools, the CEO cited a list that included new reading, math and science curricula, the hiring of 1,000 new teachers to fill vacancies, expansion of technology and new buses.
In his speech, Gordon referred to education as a "vital factor in the renaissance we are witnessing in Cleveland." As he left the Hilton ballroom, the Rev. Aaron Phillips, pastor of Sure House Baptist Church in Cleveland, said "the schools are getting better as the city is getting better."
Former Councilman Joe Cimperman gave the address a vigorous thumbs-up.
"I have never seen anyone tie so many of the things that are right together in such a short space," said Cimperman, now president of Global Cleveland, a nonprofit that works to attract and serve newcomers to the city. "I've gone to every one of these things. This one blew me away."