Return to Headlines
Browns dedicate new turf field (video)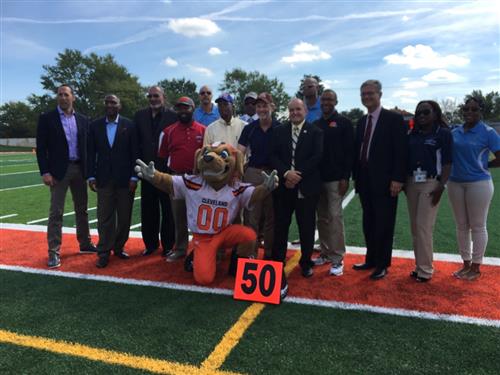 CMSD NEWS BUREAU
9/16/2016
Three new synthetic-turf football fields that the Cleveland Browns donated and installed for CMSD hosted their first games Friday afternoon.

Sashi Brown, the Browns executive vice president for football operations, joined CMSD and city officials in a dedication ceremony before John F. Kennedy hosted John Marshall at JFK's Roye Kidd Stadium. As he spoke, JFK players warmed up on the field, which is adorned with the Senate Athletic League's torch emblem at midfield, an orange Browns helmet at both 25-yard lines and orange end zones.

"Having this field with our colors is tremendously important to us, from the players right up to the front office," Brown said.
Browns owners Jimmy and Dee Haslam said they decided on the donation after hearing District Chief Executive Officer Eric Gordon talk about the connection between extracurricular activities and academic achievement. The field will serve as a classroom where players learn resilience and other "life lessons," CMSD Chief Operating Officer Patrick Zohn told students and alumni seated in the Roye Kidd bleachers.

The Browns also have installed turf fields at Bump Taylor and James F. Rhodes High School stadiums and plan to dedicate those as well. Along with the turf playing fields, the team purchased and erected 25-foot-wide scoreboards at each site.

The team plans to install turf next year John Marshall and John Adams high schools, but the District has to first find money to replace stands at John Marshall and build new at John Adams, which for now has only open land.

The Senate League's 10 teams will share the fields, so while James F. Rhodes was away Friday playing Glenville at Bump Taylor, Glenville's traditional home, Lincoln-West and East Tech were playing at Rhodes. (Find the Senate schedule here.)

Soccer teams and the Cleveland Muny Football League, with 2,000 participants ages 6 to 14, also will use the fields.

Muny League President Jason Dunn, a 1999 graduate of the former East High School, helped dedicate the field at Roye Kidd Stadium.

After the ceremony, Dunn recalled getting muddy on the league's grass fields while playing for the Muny League's East 97th Street Bulldogs.

Dunn joked that the new fields would save the league money spent in the past to clean and replace jerseys. He said the new surfaces also would inspire Muny League players to further their football careers.

"They have something to shoot for and strive for as they move up," he said.