Return to Headlines
Bill Clinton visits Ginn Academy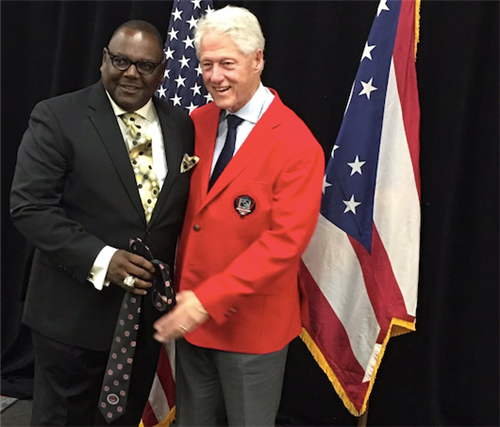 CMSD NEWS BUREAU
9/28/2016
When former President Bill Clinton stopped at CMSD's Ginn Academy this week to campaign for Hillary Clinton, he left as an "official Ginn Man" with his very own red jacket.
Ted Ginn, Sr. (pictured above), founder of the all-boys' high school, met with Clinton before the former president spoke at a rally in the school's gymnasium.
"He felt it was an honor for him to have a jacket," Ginn said. "He loves what we do here, and he's pretty much familiar with what we do at Ginn Academy."
Dozens of Ginn students had front-row seats to Clinton's speech, which took place on National Voter Registration Day and focused on the importance of voting in the upcoming presidential election. The former president also praised Ginn Academy and its mission to empower young men.
"Ginn is a great place -- giving young people control of their future," Clinton said.
Ginn senior Demerius Goodwin said he was excited for the opportunity to hear Clinton's speech and thrilled when the former president talked about his school.
"It's good to have our school get recognized for certain things," Goodwin said. "Everything he said was so true. Ginn is a school about making you mature and become a better man and a better leader."
Theodore Tate, another Ginn senior, said he enjoyed seeing the school and the community come together at Ginn.
"This was a great experience for all our classmates to come together and enjoy something that had nothing to do with the school, but it had to do with the community," Tate said. "We actually took pride in what was going on."
Tate said he registered to vote and looks forward to casting a ballot for the first time.
Ginn hopes the students benefitted from being exposed to an important public figure. He says he felt proud as he watched his students listening to the former president's speech.
"I was just looking at the faces of my children and seeing they were seeing big-time things in a big-time place," Ginn said. "You're not in a place that's not exposing you to things to be successful."