Return to Headlines
Molly Day program to honor late George Voinovich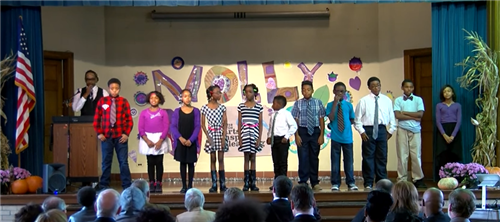 CMSD NEWS BUREAU
11/7/2016
Oliver H. Perry students put on an impressive show for the community each year to commemorate the late daughter of former senator, governor and mayor George Voinovich. So after Voinovich passed away in June, the school decided to make this year's Molly Day extra special in his honor.
This year's Molly Day performances, set for 10 a.m. and 5:30 p.m. Nov. 9, will include a rendition of Paul Fleischman's play "Seedfolks." The play explores the relationships among the diverse cultures that make up Cleveland -- a city that Voinovich called home and served for 10 years as mayor.
The school is taking Molly Day to new heights this year with the help of professional artists from the Center for Arts-inspired Learning. Dancer Emma Parker and digital artist Jimmie Woody have been working with students in the third through eighth grades since September to put the event together.
Parker and Woody are spending the entire school year at Oliver H. Perry as full-time teaching artists through the CAL's artist residency program. About 20 CMSD schools have artists in their schools this year to collaborate with teachers on lessons and workshops that fuse art with academics.
Parker, who helped out with last year's Molly Day in a smaller capacity, said many of this year's student performers have participated in past Molly Day programs and know how meaningful this year will be.
"They understand how important it is this year, and we've been with them through this journey," Parker said. "We wanted to make it special, especially after the passing of Mr. Voinovich."
"Seedfolks" uses 13 narrators to tell the story of the founding of a community garden in an immigrant neighborhood in Cleveland. While the original play is on a fictional street in Cleveland, students decided to give it their own personal touch by setting it on nearby East 185th Street, Parker said.
The audience can expect to see a variety of students' talents on display, from dancing and movement to singing and narration. Woody helped the students create a digital story about Voinovich's life and contributions that will be shown during the event. Students from James A. Garfield School will also make an appearance to showcase some original poetry connected to the "Seedfolks" themes.
The program will close with students presenting a gift of their own creation to Voinovich's wife, Janet.
Molly Day has been a beloved tradition for the school and the community for decades as a memorial for Molly Agnes Voinovich, who was struck by a vehicle and killed in 1979. The Voinoviches' 9-year-old daughter was a student in the gifted and talented program at Oliver H. Perry, which receives funds each year from the Molly Fund, administered by the Cleveland Foundation.
Those who can't make it to either show can still catch the program in real time through a live video stream. Go to the CAL Facebook page on Nov. 9 for a link to the video.