Return to Headlines
Jesse Owens oak branches out
.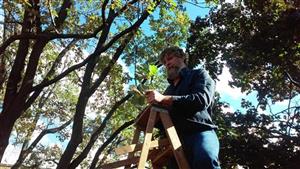 CMSD NEWS BUREAU
11/8/2016

Tim Thibault left the James F. Rhodes High School campus on Friday with more than 20 acorns and 15 to 20 buds stored in a plastic bag. He kept his precious harvest cool until shipping it overnight to his workplace in California.

That may seem like extreme effort, but you can't be too careful when handling pieces of history.

The acorns and buds were culled from a tall, thick oak that track legend Jesse Owens received as a sapling when he won one of his four goal medals at the 1936 Olympics in Germany. Owens graduated from East Tech but had the tree planted at Rhodes because he trained there.
Thibault is the curator of woody collections for the
Henry E. Huntington Library & Art Galleries
in San Marino, Calif., and hopes to use the material to grow replicas of the Owens oak in the Huntington's botanical garden.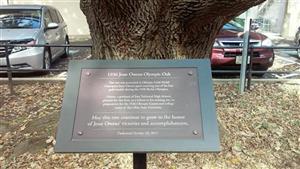 Thibault believes the oak at Rhodes may be one of only three surviving from more than 20 given to Americans with their gold medals in 1936.
He added that it might be the last left of four awarded to Owens, who won the men's 100- and 200-meter races, the long jump and the 4x100 relay. Owens' triumphant performance in Germany, portrayed in the 2016 movie "Race," was a spectacular embarrassment for Adolf Hitler and a Nazi regime that regarded black athletes as inferior.
"You have a national treasure on your campus," Thibault said after arriving at Rhodes on Friday afternoon. "It's an important bit of cultural history. "
Acorns were scarce under the tree Friday, maybe after being scattered and shredded by a mower or seized by squirrels. Rhodes custodian Hugh Forrey turned up three for Thibault, who cleared his expedition with the District.
Thibault also climbed a high ladder and fetched a handful of stems with attached buds from branches that are well out of reach from the ground. He separated the stems and wrapped the ends in moist paper towels for hydration.
Thibault got more than 20 additional acorns from Rhodes earth science teacher James Gazda. Gazda has collected and preserved acorns from the oak in hopes of planting some of the offshoots on the school grounds as a class project.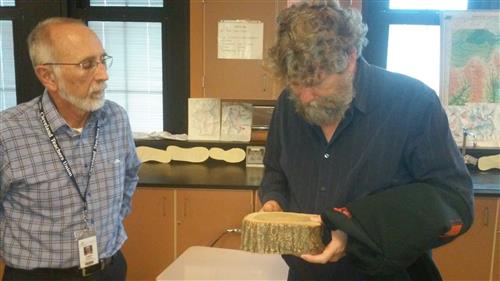 "This is exciting, bringing it back again," Gazda told Thibault as the two talked trees outside a classroom.

When he returns to California, Thibault will plant a few of the acorns while giving others to a colleague. He also will graft some of the stems and vegetative buds to a seedling oak.

Other stems will be cut in an attempt to clone the oak in tissue culture, a process known as micro-propagation. Some of the tissue may be frozen and, through cryopreservation, keep the Owens tree line alive forever.

Thibault, who passed through Cleveland on a combination of work and leisure travel, previously collected material from an Olympic oak in Los Angeles. After leaving here, he obtained samples from the third known survivor, in Connellsville, Pa.

He is thinking about developing a small collection of oaks from the trees' offshoots. He said the oaks would be seen by more than 750,000 people who visit the Huntington each year.

Thibault, 53, also is looking ahead to 2036 and the centennial anniversary of Owens' historic performance.

"I would love to be able to offer a copy of the oak tree that Jesse Owens got in 1936 to the gold medal winner in the 100 meters," he said. "That would be way cool for me."