Return to Headlines
John Adams alumni dedicate plaque to classmates killed in war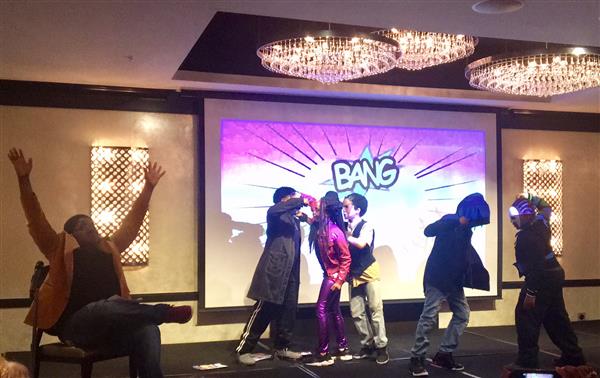 CMSD NEWS BUREAU
11/9/2016
John Adams High School alumni returned to their alma mater this week to dedicate a plaque to six classmates killed in the Vietnam War. The dedication ceremony, organized by members of the Class of 1966 who also served in that war, drew alumni from near and far to commemorate their late classmates during the week of Veterans Day.
The plaque is engraved with the names of Army soldiers Jerry Woodall, William E. Johnson Sr., Cornell R. Clarke and Frank W. Flonnoy, Jr., along with Sherman L. Ivey (Marines) and Michael B. Judd (Navy). All of the men died between 1966 and 1969, with a few killed just months after their high school graduation.
"This dedication we're about to unveil is because we don't want to forget anybody," retired Navy officer Marshall Griffith said before the ceremony. "These people were family. We went to school together, we ate together, we played ball together, we went to parties together."
Dozens of current John Adams students joined the alumni for a solemn and dignified ceremony in the school cafeteria, where alumni read the names of the fallen soldiers and listed their awards and decorations. Some of the alumni who are veterans wore their military uniforms or hats emblazoned with "John Adams High School Vietnam Veteran." The veterans spoke to students about the meaning behind Veterans Day and Memorial Day, and one lucky student left with a hat with the slogan "Freedom isn't free."
The crowd then proceeded to the school's main entrance near Martin Luther King Jr. Drive, where the 150-pound granite plaque was unveiled. The veterans got into formation for a salute as they presented a ceremonial burial flag that will be affixed above the plaque.
Retired Army Sgt. Wesley Thomas, who lives in Maryland, says he first floated the idea for a memorial at a class reunion 10 years ago. He was excited to make the trip to Cleveland to see his dream become a reality.
"It's a proud day," Thomas said. "I haven't lived in Cleveland in 40-some years, but I still call Cleveland home, and this is still my school."
Retired Air Force Col. Joseph Crawford was the lead organizer for the plaque installation. He helped a committee raise over $1,400 through letters and in-person collections and at class reunions. He also helped get the resolution for the plaque before the Cleveland Board of Education.
Crawford says the memorial is deeply important to him, especially because of the controversial nature of the Vietnam War that sometimes led the public to disrespect veterans. He hopes the permanent fixture will serve as a lasting symbol of sacrifice for current and future John Adams students.
"There's a really strong kinship among people that actually experienced the Vietnam War," Crawford said. "We want the current John Adams student body to understand that these were our fellow classmates who gave their lives."