Return to Headlines
Art museum donates 'Create It Kits' to third-graders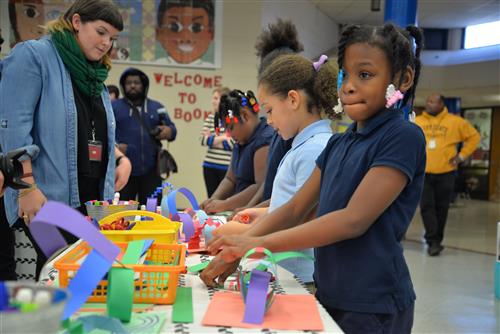 CMSD NEWS BUREAU
12/7/2016
The Cleveland Museum of Art will send a "Create- It Kit," containing art supplies and more, to every third-grader in Cuyahoga County. The donation, made in celebration of the museum's centennial, was announced Wednesday at H. Barbara Booker K-8 School.
Nearly 13,000 kits will be distributed to third-graders at 130 public, charter and parochial schools in Cleveland, 30 school districts and 53 private and parochial schools in Cuyahoga County. CMSD, the United Way of Greater Cleveland, the City of Cleveland and Cuyahoga County are also partners in the initiative.
"Research indicates that early experiences with art can teach children problem solving, creative thinking and literacy skills," said Cyra Levenson, the museum's director of education and academic affairs. "The kits are just one opportunity the museum can provide to help families have fun with art together and to encourage visual expression at an age when many children give up on drawing."
The museum teamed up with Cleveland-based American Greetings to design the kits, which include art supplies, a free children's "Art Explorers" membership to the museum, a custom-made sketchbook with art-making activities, five "Collection Cards" designed to engage students with objects in the museum's collection and DIY paper glasses inspired by the museum's "Portrait of Nathaniel Olds" by Jeptha Homer Wade.
To help remove barriers that make it difficult for some families to get to the exhibits, the museum and the United Way of Greater Cleveland provided 2,000 RTA bus passes to third-graders at H. Barbara Booker and other CMSD schools participating in United Way's "wraparound" initiative.
The wraparound initiative places a site coordinator in each school to organize services that help students and families overcome obstacles interfering with education. The services range from tutoring and family literacy nights to helping families avoid eviction and disconnection of their utilities.
The museum was intentional in choosing third-graders as recipients of the kits, said Seema Rao, the museum's director of intergenerational learning,
"This initiative was focused on a pivotal age for kids, when creative expression can be sidelined due to academic pressures," Rao said. "Certainly creativity is essential in the years before and after third grade. But third is when so many children think they need to turn away from creative pursuits in order to be successful in reading, writing and math. In fact, creative pursuits support those other skills."
Cuyahoga County Executive Armond Budish attended the event and said he thinks the "Create It Kits" initiative will spark creativity and innovation in the region's children.
"If we're going to move the region forward -- and we will -- we have to start with education," he said. "And art is an important part of education."
Speaking to a class of H. Barbara Booker third-graders who sat in front of him, Budish continued: "Art fosters the creativity that we need to see in our future leaders, and you are the future leaders. You all will play an important role in making our region succeed."
Following the announcement, museum staff including Rao worked with those students to make sculptures out of construction paper and glue. Rao said the art museum picked H. Barbara Booker to host the event because of the museum's involvement in previous activities and programming at the school.
"We have a foundation here, and these are longstanding friends," Rao said. "When you're doing something like this, you want to work with your friends and connect with them again."
Check out the gallery below for more photos from the event.